A number of conditions can lead to heart enlargement, also called cardiac hypertrophy, in infants. Around 1 percent of infants have congenital cardiac defects, the most common congenital defect found in newborns, the American Heart Association reports. Congestive heart failure and cardiomyopathy are two conditions that result in heart enlargement in infants. The treatment for an enlarged heart depends on the cause of the enlargement.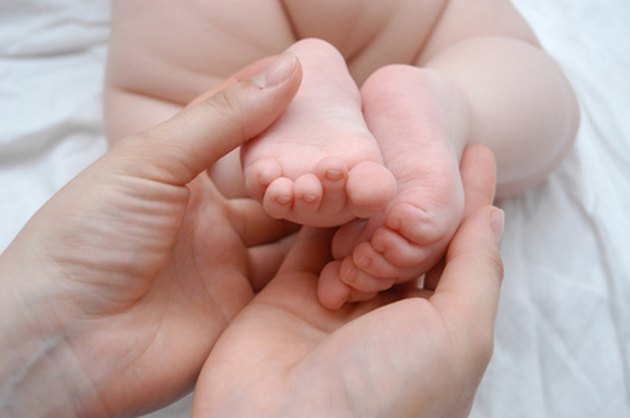 Medications
A number of medications treat enlarged heart in infants. Some, such as diuretics, decrease the workload of the heart by decreasing the amount of blood that has to be pumped through it. Medications such as digitalis help the heart beat slower but stronger, which increases its efficiency. Anti-arrhythmia medications and blood pressure medications that slow and strengthen the heartbeat may also be prescribed for cardiomyopathy or congestive heart failure.
Surgery
Heart surgery for infants with enlarged hearts can consist of repair of abnormal blood vessels or other problems or can require a complete heart transplantation. Devices that automatically supply a shock when the heart goes into a dangerous arrhythmia, called an ICD, internal cardioverter/defibrillator can be surgically implanted to help children with cardiomyopathy, Cincinnati Children's Hospital explains.
Nutrition
Enlarged hearts must pump more often to supply enough blood to the body, which requires additional energy. Infants with enlarged hearts tire easily, making it difficult for them to take in enough calories by mouth to give them the additional energy they need just to survive. Such infants often require enteral feeding through a nasogastric tube, which supplies nutrition directly to the stomach through gravity. A tube placed directly into the stomach or small intestine through the abdominal wall can also supply nutrition.
Artificial Heart-Lung Machines
Infants with seriously enlarged hearts from heart failure may require ECMO, extra-corporeal membrane oxygenation, a type of heart-lung bypass machine. ECMO may be used as bridge to buy time in an infant waiting for a heart transplant. Another type of ventricular assist machine, called the Berlin heart and available for use in a few specialized hospitals, can be used for up to a year, Children's Memorial Hospital of Chicago reports.
Is This an Emergency?
If you are experiencing serious medical symptoms, seek emergency treatment immediately.