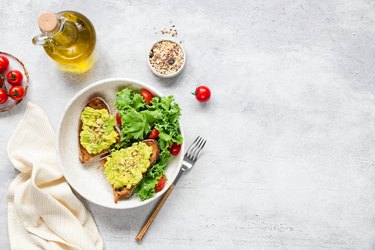 If you've decided to try a no sugar no flour diet for health reasons or to lose weight, don't despair. You can still eat most food; the only off-limits products are those that are processed and refined and typically come in a box or bag at the supermarket.
Stick with nutritious whole foods — fruits, vegetables, lean protein, legumes, nuts and seeds — and your shopping cart will overflow with good things to eat. Consult your doctor or a dietitian to make sure a no-added-sugar, no-flour diet is right for you.
Produce: No Sugar or Flour
Although fruits and some vegetables provide natural sugar, they have no added sugar and no flour and should top your diet food list. The sugar in produce differs from added sugar because it occurs naturally and is not inserted during the manufacturing process to "improve" the taste of a product.
Foods that contain natural sugar supply needed vitamins, minerals and fiber, which supports overall health, according to the University of California at San Francisco. These natural sugars also help fuel your brain. That said, some fruits are higher in natural sugars than others, such as dried fruits and many fruit juices.
On a no-sugar diet, you may want to choose the fruits containing the lowest amounts of natural sugar, including avocados, rhubarb, lemons and limes, cranberries, raspberries, strawberries, grapefruit, papayas, cantaloupe, nectarines, honeydew melon, peaches, blueberries, oranges, clementines, guavas, and plums and pineapple. All of these have less than 10 grams of natural sugar per 100-gram serving, according to date from the USDA.
Vegetables with the least amount of natural sugar include mushrooms, watercress, endive, spinach and other leafy greens, cauliflower, yams, radicchio, snap beans, potatoes, different types of cabbage, artichokes, asparagus, kale and Swiss chard, celery, broccoli, summer squash, okra, cucumber, Brussels sprouts, and winter squash. All have less than 2 grams of natural sugar in 100 grams, according to nutritional data from the USDA.
Add Lean Protein
Animal-based proteins contain no sugar or flour — as long as you buy them plain and not prepared with sauces or breading. For example, steer clear of frozen entrees like chicken nuggets or breaded fish sticks, and prepared meats like barbecued chicken, crab cakes, or flavored sausages.
Stick with fresh-cut chicken, turkey, fish, seafood, beef, pork and lamb from the butcher section of the supermarket. Prepare them at home using ingredients such as olive oil, fresh herbs, garlic or lemon, and avoid bottled condiments, like ketchup, sauces and dressings that are high in sugar.
Eggs are a lean protein that don't naturally contain sugar or flour, but stay away from prepared dishes like quiche, which has a flour crust, or make crustless quiche.
Dairy products such as milk and yogurt also contain protein along with lactose, a natural sugar. Milk has about 12 grams of sugar per cup. Plain low-fat Greek yogurt has about 6 grams of sugar per 6-ounce container; choose it in lieu of flavored yogurts like vanilla, honey or fruit at the bottom. Add your own fruit to control the sugar and keep it natural.
Legumes and Beans
Legumes and beans provide protein and carbohydrate, so they contain some natural sugar but absolutely no flour. Steer clear of flavored beans, like baked beans, which have sugar, and dishes like bean burgers, which may contain flour.
Go for plain dried or canned beans and legumes of all varieties. Those with the least amount of natural sugar include black, navy, white, kidney, pinto, pink, great Northern, lentils and soybean-based foods like tofu and soy milk — these all have less that 2 grams of sugar in 100 grams. However, avoid flavored soy milk, like vanilla or chocolate, which has added sugar.
Choose Nuts and Seeds
On a no-sugar, no-flour diet, nuts and seeds make a good snack, providing protein and fiber, the two nutrients most associated with satiety; in other words, they help fill you up so you eat less. According to Harvard Health, adding more nuts and seeds to your diet may lower your risk of heart disease and diabetes.
Almost all nuts, seeds and their butters contain less than 10 grams of natural sugar per 100 grams, and they have no flour. The lowest in natural sugar are sesame seeds and paste, black or English walnuts, sunflower seeds and paste, flax seed, hemp seed, pumpkin seeds, Brazil nuts, hazelnuts, pecans, almonds, macadamia nuts and pistachios, with less than 5 grams per 100 grams.
When buying nuts, seeds and their butters, make sure you opt for raw or dry roasted varieties without added flavors like honey or barbecue.
Grains for No-Sugar, No-Flour Diet
If you're on a no-flour diet because of an allergy or sensitivity to gluten, a protein found in wheat, barley, rye and triticale, according to the Whole Grains Council, you'll have to choose your grains carefully. Stay away from refined bread, pasta and cereal, and select whole grains instead.
Many whole grains are low in sugar and contain no gluten, and can be enjoyed as nutritious side dishes or as the basis of main dishes. Among those lowest in natural sugar and also gluten-free are millet, brown rice, corn, quinoa, wild rice, buckwheat, oats, amaranth, teff and sorghum. The sugar in each of these comes to less than 3 grams per 100 grams.
Gluten is in many more foods than just wheat products, and some gluten-free foods like oats may be cross-contaminated with it. If you suspect you have an issue with gluten, talk to a doctor or dietitian about crafting a safe gluten-free diet.