Oatmeal is a whole grain, making it a healthy part of any diet. Oats are fiber-rich and contain no saturated fat. Like any food, though, too much oatmeal, or versions dressed in sugary toppings, can cause you to overshoot your calorie goals and interfere with weight loss. But when you moderate your portions and choose plain oats with minimal sugar, oatmeal can play a valuable role in a weight-loss strategy.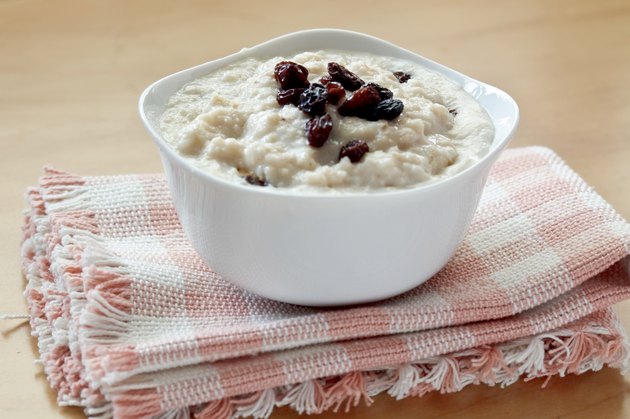 What You Need to Know About Weight Loss
No one food can magically cause you to lose weight. You drop pounds when your consumption of calories is lower than what you burn. A pound equals 3,500 calories -- so if you can eat 500 to 1,000 calories less than you burn daily, you lose a pound in a week. How many calories you burn a day depends on your size, age, activity level and gender -- an online calculator can help you estimate. An intake of between 1,200 and 1,400 calories is considered low for most people. Eating fewer than 1,200 calories is unwise, too, as it can stall your metabolism and deprive you of essential nutrition.
When you reduce your calorie intake and move more to lose weight, you'll likely experience hunger and cravings. To minimize these dietary saboteurs, you're best off choosing filling, nutritious foods -- like oatmeal -- to fill your calorie goal.
Research Supports Oatmeal for Weight Loss
Oatmeal contains beta glucan, which is a soluble fiber that helps fight insulin resistance, hypertension and abnormal levels of fat in the blood. A paper published in the Journal of Nutrition and Metabolism in 2012 pointed out that this type of fiber can also increase feelings of satiation. This makes oatmeal a superior choice when you're dieting. Another study, published in a 2013 issue of the Journal of the American College of Nutrition, compared an equal-calorie oatmeal breakfast to a ready-to-eat cereal breakfast. The oatmeal provided a higher fiber and protein content as well as less sugar. It induced greater feelings of fullness and a reduction in hunger.
A 2013 issue of Plant Foods and Human Nutrition published a study that showed oat cereal consumed for 12 weeks did associate with reduced body weight, body mass index, body fat and waist-to-hip ratio. A 2006 issue of the Journal of the American Dietetic Association also confirmed the weight-loss benefits of consuming a whole-grain cereal, such as oatmeal, as part of a plan that included a low-calorie diet and exercise. After 24 weeks, the participants who exercised, reduced calorie intake and consumed a fiber-rich, whole-grain cereal took in the highest quality of nutrients compared to those who just exercised or who dieted and exercised without including whole-grain cereal.
Steel-Cut Vs. Oat Flakes
Steel-cut oats and oat flakes both start out as an oat groat. To make steel-cut oats, the groat is simply chopped into pieces to create a ricelike grain. They take longer to cook and have a nutty flavor and chewier texture than oat flakes. Old-fashioned oats have been steamed and then flattened so they cook faster and absorb more liquid. Instant oats have been precooked, dried and then are pressed into fine, thin flakes. They cook within a minute and have a gummier, mushier texture.
Nutritionally, all oats have the same amount of fiber, calories and protein per equal weight serving. Steel-cut oats and large-flake oats -- such as old-fashioned or whole oats -- elicit a lower blood sugar response than quick or instant oats, even those without added sugar, reported a 2015 review published in the British Journal of Nutrition in 2015. Researchers assume that the smaller size of the instant oats particles and their tendency to become gelatinous when cooked accounts for the more dramatic effect on blood sugar.
Foods that quickly spike your blood sugar cause your body to pump out the hormone insulin quickly, potentially causing you to store more calories as fat. The higher glycemic response elicited by the instant oats also suggests they digest more quickly, which means they may not squelch your appetite for as long as steel-cut or large-flake versions. Opt for the less-processed versions when you can to maximize the satiating effect of oats.
Possible Oatmeal Weight-Loss Pitfalls
The fiber in oatmeal may keep you from overeating after an oatmeal breakfast, but simply adding oatmeal to your diet won't make weight loss happen. Another study, published in the British Journal of Nutrition in 2010, showed that the addition of beta-glucan from oats to a low-calorie diet did not lead to greater weight loss than a low-calorie diet alone.
Get more bang for your nutritional and calorie buck by preparing quick or old-fashioned oats in water. This bowl has 166 calories, 6 grams of protein and 4 grams of fiber. A packet of instant, sweetened oatmeal contains 158 calories, but less fiber and less protein. You also get a hefty dose of added sugar -- 13 grams -- in the flavored packet.
Watch the toppings you add to the oatmeal to keep the calorie content low. Dried fruit, nuts, brown sugar and maple syrup can quickly add up. Opt for 1/2 cup of fresh or frozen unsweetened berries, a teaspoon of honey and 1/2 cup of nonfat milk to flavor your morning meal and you'll only add 133 calories. Alternatively, add 1/2 cup milk, about 60 raisins, a teaspoon of brown sugar and 1 tablespoon chopped walnuts for an extra 190 calories.