Putting oatmeal on the dinner menu has the potential to enhance weight loss. Oatmeal is filling, it is packed with ingredients that fight hunger, and it's lower in calories than other whole grains you might normally have for dinner, such as brown rice. Whole grains in general, and oatmeal in particular, are also associated with long-term maintenance of a healthy weight.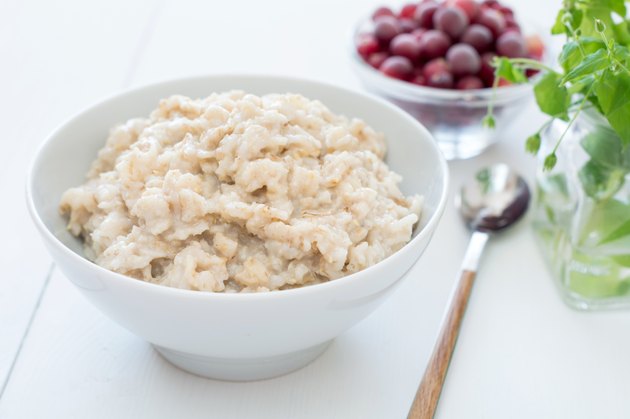 Oatmeal for Dinner Controls Calories
As your daily activity increases, you burn more calories and strengthen your heart, muscles and bones, and even improve your mood. But a boost in activity doesn't guarantee you'll lose weight. If you continue to consume more calories than your body uses, you won't lose any stored fat. Having oatmeal for dinner is a healthy way to limit calories, which is essential for any weight-loss diet.
One cup of cooked oatmeal only has 166 calories, so having a bowl for dinner makes it easier to control the number of calories consumed. It also has fewer calories than other whole grains. For example, you'll get 248 calories from a cup of cooked brown rice and 222 calories from the same portion of quinoa.
Oatmeal makes a great base for various toppings that provide a serving or two of fruits and vegetables. Top it with sliced bananas, peaches, apples, almonds and any type of antioxidant-rich berries. Or go savory and add mushrooms, sweet peppers, chopped spinach, tomatoes, or any other favorite veggie. If you want to cook the veggies, toss them in when you're boiling the oats. Another tasty mix combines oatmeal with mashed sweet potatoes, walnuts, vanilla, cinnamon and a small amount of maple syrup.
Whole-Grain Oatmeal Supports Weight Loss
Including whole grains, such as oatmeal, in a weight-loss plan, may improve your total weight loss. When experts from UCLA reviewed studies investigating the relationship of whole-grain intake with chronic disease and weight gain, they found that people who consumed three to five servings of whole grains daily had less weight gain over 8 to13 years than people who never or rarely ate whole grains, according to the Journal of Nutrition in 2012.
Beyond its role as a whole grain, oatmeal may have another advantage for weight loss. After learning that oats regulated metabolism in lab animals, researchers conducted a study using human subjects. One group was the control group, which received a placebo, while the second group consumed oat cereal. After 12 weeks, the oat-eating group lost more total body weight and abdominal fat than the control group, reported the March 2013 issue of Plant Foods for Human Nutrition. While the information is promising, this was a small study that only included 34 subjects, which means the results may not apply to everyone. More research is needed to verify the impact of oats alone on weight loss.
Weight Loss Benefits of Protein and Fiber
Oatmeal is a good source of two nutrients, protein and fiber, that make a difference to weight loss efforts. A cup of cooked oatmeal has about 6 grams of protein, which is about 12 percent of the daily value. The soluble fiber in oatmeal absorbs water and forms a gelatinous mass, which pushes against sensors in the stomach wall and sends the message that you're full. Protein and fiber both work to slow down the rate at which food leaves your stomach and travels through the small intestine. As a result, they help you feel full for a longer period of time, which in turn, makes it easier to eat less. Soluble fiber may also delay an increase in the hunger-causing hormone ghrelin, according to Current Obesity Reports in 2012.
Protein and fiber also prevent spikes in blood sugar. As a result, less insulin is released into the bloodstream -- and that's an important benefit when you're trying to lose weight. Insulin is responsible for getting excess sugar out of the bloodstream. To accomplish the job, insulin tells the body to turn extra blood sugar into fat, then it also stops fat from being used for energy. Insulin has a "fat-sparing effect," which stimulates fat storage, notes Colorado State University.
Low-Energy Density Nutrients From Oatmeal
Energy density refers to the number of calories in a specific weight of food, which is usually expressed as calories per gram. Foods with fewer calories per gram, called low-energy density foods, have the distinct advantage of letting you eat more food while trying to lose weight. Water and fiber are the components that determine low-energy density, because they contribute bulk without adding calories. Since cooked oatmeal is nearly 84 percent water, and 1 cup of cooked oatmeal has only 165 calories and 4 grams of fiber, oatmeal is a filling, low-energy density food.
Cutting calories can put you at risk for not getting adequate nutrients. Diets that include exercise and fiber-rich, whole-grain cereals, such as oatmeal, increase the quality of overall nutritional intake, according to a report in the Journal of the American Dietetic Association in 2006. Oatmeal for dinner increases mineral intake, as it is a good source of iron, magnesium, manganese, selenium and zinc.