Eating a diet higher in nonacidic foods than acidic foods can benefit your health since it means you'll be consuming a diet higher in fruits and vegetables and lower in sodium. Reducing the total acid in your diet may help prevent chronic disease such as cancer, osteoporosis, hypertension and stroke.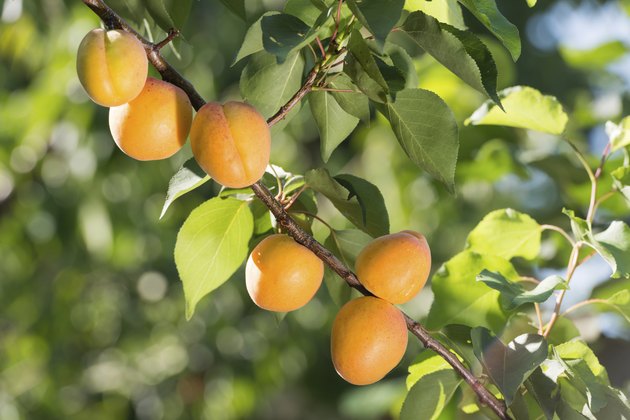 Potential Renal Acid Load
The amount of acid a food creates in your body after you consume it is based on the potential renal acid load of the food -- not the pH of the food before you consume it. The PRAL is a score of how much acid or base the food causes to be excreted into the urine. Your body must rid itself of excess acid into your urine in order to maintain a healthy pH environment. The more acid a food creates in your body, the more acid is excreted in your urine. In the 1990s, researchers conducted a study to calculate the PRAL value of 114 frequently consumed foods. The study was published in "Journal of the American Dietetic Association" in 1995. This is the PRAL index currently used. A PRAL below zero indicates a nonacidic food, and the lower the PRAL score, the more alkaline the food.
Nonacidic Fruits
The most alkaline fruit, the fruit with the lowest PRAL, is raisins with a PRAL of negative 21. Black currants, bananas, apricots, kiwis and cherries follow with PRAL values less than negative 3. The nonacidic fruits in the negative 2 to negative 3 range are oranges, pineapple, lemon juice, peaches, strawberries and 15 different apple varieties. Watermelon and grape juice are also nonacidic, although slightly less alkaline with PRALs of negative 1.9 and negative 1.0.
Nonacidic Vegetables
Spinach is the most alkaline or nonacidic vegetable with a PRAL of negative 14. Celery, carrots, cauliflower, potatoes, radishes, eggplant and tomatoes follow with PRALs less than negative 3. Zucchini, lettuce, chicory, leeks, onions, mushrooms, peppers and broccoli follow with PRALs less than negative 1. Cucumber and asparagus are slightly less alkaline with PRALs of negative 0.8 and negative 0.4, but they're still considered nonacidic.
Nonacidic Legumes and Nuts
The legumes and nuts given PRAL values are green beans, lentils, peas, hazelnuts, peanuts and walnuts. Of these, only two foods were found to be nonacidic -- green beans with a PRAL of negative 3.1 and hazelnuts with a PRAL of negative 2.8.
Other Foods
Other foods included in the 114 foods given PRAL values are not considered to be nonacidic because they do not have negative PRAL values. These foods include meats, poultry, fish, grains, dairy products and eggs. But most people can consume these foods in moderation to obtain adequate nutrition without increasing the acid levels in the body. The key is that a nonacidic diet is higher in fruits and vegetables and lower in other foods.
Other Possible Acidic Foods
Note that some foods can increase the acid in your stomach even if they have a negative PRAL value. These foods include citrus fruits, tomato, garlic and onions. If you have gastroesophageal reflux disease, which is characterized by chronic prolonged heartburn, you should avoid these foods as they can trigger symptoms. Of course, always speak to your doctor or dietitian regarding changes to your diet.