Author Andrew Biel notes in "The Trail Guides to the Body", that a pivot joint allows one bone to rotate around another. The first and second cervical vertebrae pivot to allow neck movement from side to side, and the ulna and radius in the forearm pivot from side to side, as well. These are true pivot joints, but many joints in the human skeleton allow for pivoting movements such as in the hips and spine.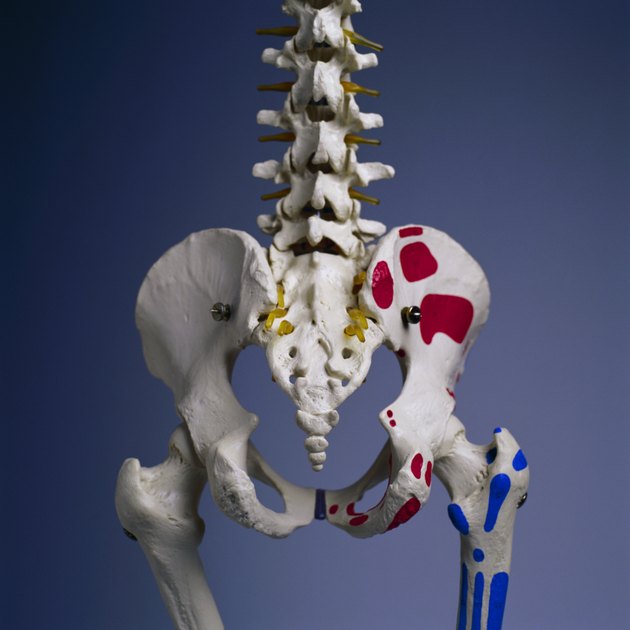 Neck and Elbow
The neck, or cervical, joints, and the elbow, or radioulnar, joints, are true pivot joints. Dr. Tamarkin, of Springfield Technical Community College states that pivot joint action occurs when one bone spins around on another in either the left or the right direction. Pivot joints use a twisting motion as the neck turning from side to side and the elbow's ability to supinate, or turn the hand up, or pronate, turning the hand down. The radius and ulna in the forearm are true pivot joints in that there is no other action they perform. Although these two joints appear to move in other planes, those actions result from proximal joints attached to these bones located closer to the body. The neck's ability to bend forward and back results from vertebral movement, and the elbow's ability to move forward and back is from the hinge joint in the elbow.
Legs and Arms
The legs and arms have ball and socket joints that allow the limbs to move in any direction to include pivoting. The glenohumeral joint articulates the humerus to the space in the shoulder known as the glenoid fossa. The glenohumeral, or shoulder, joint is not a true pivot joint, but the ball and socket connection allows this joint to appear to pivot when it is actually medially and laterally rotating. The same is true of the iliofemoral joint, the femur joining the hip at the ilium that attaches the femur, or thigh, to the ball and socket joint in the hip. The femur appears to pivot because it rolls into a pivot position. In order for the joints of the legs and arms to be true pivot joints, they would need to have a stationary axis on which to pivot.
The Spinal Vertebrae
The spinal vertebrae also appear to pivot or rotate from side to side, but the action of these small joints is actually gliding in a facet joint. "Gray's Anatomy" describes this movement as rotation that results from the twisting of the intervertebral fibrocartilages, cartilage located within the vertebrae that allows movement. There is only slight movement between individual vertebras, but since it occurs the whole length of the spine, it appears as though the vertebrae have greater movement. There is no movement, however, in the lumbar, or low-back region, of the spine. This appearance of movement results from the ball and socket joint in the hips.
Is This an Emergency?
If you are experiencing serious medical symptoms, seek emergency treatment immediately.