Acute renal failure involves the sudden loss in the kidney's capacity to function, according to MayoClinic.com. The kidney is a vital organ that filters excess electrolytes and waste materials out of the bloodstream. When the kidneys fail to function properly, these toxic substances can reach dangerous levels and may cause severe damage to the body. Acute renal failure can be caused by an overdose of medications, such as acetaminophen, or illicit substances, such as heroin, reports the Merck Manuals Online Medical Library.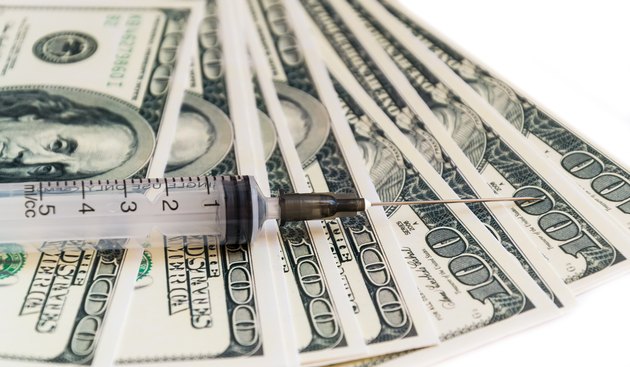 Constitutional Symptoms
Some subtle, constitutional symptoms are indicative of the initial stages of acute renal failure due to drug overdose, according to MedlinePlus, a service of National Institutes of Health. Effects may include a metallic taste in the mouth, prolonged nausea and vomiting, incessant hiccuping, itching all over the body, fluid retention, unintended weight loss and an over-all feeling of fatigue and sluggishness.
Pulmonary Edema
Excessive amounts of certain drugs can leave the kidneys unable to properly filter fluids from the body. Pulmonary edema can arise from the fluid overload brought on by acute renal failure, reports the American Academy of Family Physicians. This build up of fluid in the lungs can seriously hamper the body's respiratory system, to the point of complete respiratory failure. Associated symptoms include coughing up blood, anxiety and breathing difficulty.
Metabolic Acidosis
When the kidneys are not filtering enough acid out of the system, the high levels of acid interfere with the body's vital systems. This can cause both neurological and cardiac complications, such as seizures, coma, arrhythmia and hypotension, according to the American Academy of Family Physicians.
Hyperkalemia
In hyperkalemia, the electrolyte potassium reaches excessively high levels in the blood. Cases of extreme hyperkalemia are considered medical emergencies, according to the American Academy of Family Physicians. The arrhythmia or abnormal heart rhythms it causes can lead to cardiac arrest and sudden death.
End-stage Renal Failure
Some patients who survive acute renal failure and the drug overdose may still fail to regain full functionality of the kidneys, according to MayoClinic.com. This end-stage renal failure will require either one of two remedies: a full kidney transplant or permanent dialysis, a mechanical process that substitutes for the kidney in its function of bloodstream waste filtration.
Is This an Emergency?
If you are experiencing serious medical symptoms, seek emergency treatment immediately.