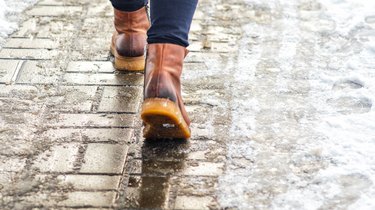 When you're walking on ice, you need a pair of shoes that will support you and help you prevent injury. If you are searching for the best shoes for walking on ice, consider the bottom of the shoe first.
For walking on ice, you want a shoe with large treads, or raised patterns, to help your feet keep their grip on the ground. In addition, rubber soles will prevent you from slipping and help you keep your balance.
Top Considerations in a Shoe
The best shoes for walking in snow or on ice have completely waterproof soles. Inside the shoe, look for good insulation: The best shoes for walking on ice will have linings made with water-resistant insulation to keep warmth locked in. Finally, make sure the shoe has stability features, like ankle support and a well-cushioned heel cup and insole, to help support your body weight.
Although materials and construction play the biggest role in creating the best shoes for walking on ice, shoppers commonly overlook other important factors. Make sure your shoe fits snugly; if it doesn't, no amount of technology will keep you from slipping on ice.
In addition, don't automatically discount lightweight shoes. While in the past, the best winter shoes were made out of heavier materials, today's technology allows manufacturers to create high-quality winter shoes that are far less heavy than they once were. Examine the construction of the shoe and try it on to make your buying decision.
Find the Best Shoes
While most shoe stores carry shoes for regular walking, they won't necessarily carry the best shoes for walking in snow or on ice. To find these shoes, search stores geared toward outdoor athletes, such as REI or Sierra Trading Post. These stores often have hiking boots and other types of shoes specifically created for harsh conditions and will help you find the perfect shoe for you.
The Canada Safety Council notes that you can also attach ice grippers to your shoes to help you walk on ice. Be sure to remove them before walking on a smooth surface like stone, ceramic or tile, however, as they may cause you to slip and fall once you leave the ice.
While these retailers do have websites, buy your first pair of shoes for walking on ice in person so you can examine their construction up-close and make sure they fit your foot snugly. If you're planning to buy ice grippers, you can buy them at the same time and make sure they fit on the shoes. After you have worn your shoes for a while and determined if they work for you, feel free to purchase your second pair online.
Be Willing to Spend More
Normal walking shoes cost between $40 and $100. However, the best shoes for walking in snow or on ice will cost significantly more, as they use high-tech materials and more complex engineering. Expect to pay about as much as you would for a running shoe. Between $80 and $120 is a good range to keep in mind.
While this may seem steep, the best shoes for walking on ice will keep you from slipping and falling, preventing injury. Therefore, they're worth the extra money you will spend.
With the proper footwear, you'll more easily be able to navigate along an icy path. The Rochester Institute of Technology advises you walk slowly and put your center of gravity over your front foot. This so-called "penguin walk" will help you stay balanced as you move along the ice.
Be sure to check the bottom of your shoes periodically for signs of wear. Once the tread has started to wear down the soles are more smooth, it may be time for a new pair.