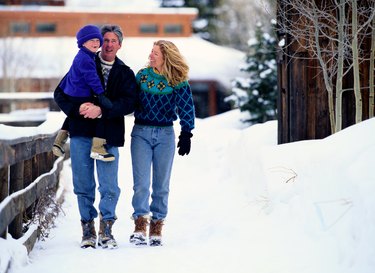 What to Look For
If you live in an area where winter weather includes rain or snow, look for waterproof boots. For extremely cold weather, choose boots with liners or a rating that conforms to the general winter temperatures in your region. Walking boots should not be too heavy and need to have flexible soles with good traction.
Common Pitfalls
The most common pitfalls in choosing walking boots involve ill-fitting and stiff-soled boots. To avoid fitting problems, try on the boots using your usual winter socks, and ask a store employee for assistance in fitting the shoe. Hiking boots not intended for long-distance walking often have stiff soles, making them heavy. To avoid blisters, you'll need to break them in before wearing them on long walks.
Where to Buy
While the best prices are often found online and through mail order from retailers such as Amazon.com and Sierra Trading Post, purchase in this manner only if you're sure of your shoe size. Zappos.com offers a liberal exchange and return policy, so if you're unsure of your size, you can order several pairs and return the unwanted ones free. The best option for boots, however, is a store where you can try on several pairs and see how they fit your feet. Retailers such as Dick's Sporting Goods and REI have a variety of options and professionals who can assist you in choosing the best boot for your needs.
Cost
Winter walking boots range in price from $80 to over $200, depending on the brand, style and specifications. The cheapest winter walking boots tend to be those similar in style to athletic shoes. Boots made with leather or specialty fabrics are often more expensive than those made with synthetic materials.
Comparison Shopping
Athletic-style boots often have flexible rubber soles and a simple lacing system similar to that of tennis shoes. Lightweight, they are excellent for walking in different types of terrain but may not be waterproof or cold-resistant. Hiking-style boots come in a variety of lacing styles and are often taller and waterproof, making them a good choice for deeper snow or wet conditions. They may not be as flexible as the athletic styles, however.
Insider Tips
If you'll be doing a lot of uphill walking in winter conditions, you may want to choose a boot with a stiffer sole, as this gives you more support when you're hiking up steep slopes.