Red blood cells carry oxygen from the lungs to the rest of the body. A high number of red blood cells--more than 5.72 million red blood cells per mcL for men and 5.03 million per mcL for women--requires further evaluation, according to MayoClinic.com. In some cases, treatment for an elevated red blood cell count involves correcting the underlying cause, while other conditions require focus on reducing the risk of life-threatening blood clots.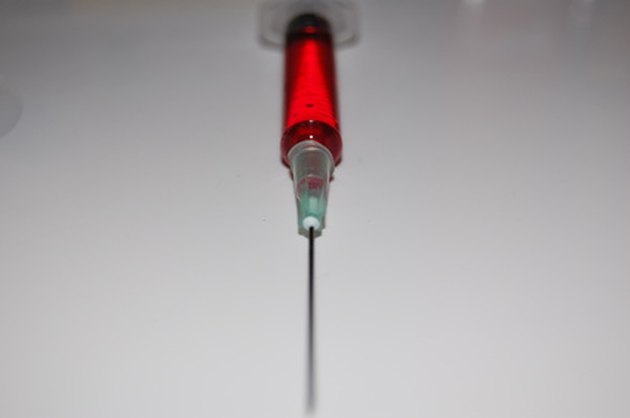 Polycythemia Vera
Polycythemia vera, a rare condition of the bone marrow, causes an increase in red blood cell production for no identifiable reason, according to the Merck Manual of Health and Aging. The blood becomes thicker and clots more easily, but symptoms often do not appear for many years. Later, patients experience weakness, fatigue, lightheadedness, headache, night sweats, shortness of breath, bleeding gums, itching, vision changes and enlargement of the liver and spleen. Treatment includes withdrawing a pint of blood every other day to monitor the blood count until it is within normal range and medication to manage symptoms and reduce the risk of clots. Without treatment, patients live less than two years and usually die as a result of a large blood clot; with treatment, patients may live at least 10 to 15 years, according to the Merck Manual.
Low Oxygen
Secondary polycythemia may result from low oxygen levels in the blood. The body compensates for impaired heart or lung function by increasing production of red blood cells, according to the Merck Manual. High altitudes, smoking, chronic obstructive pulmonary disease, lung fibrosis and heart failure may cause secondary polychythemia. Patients have milder symptoms than those of polycythemia vera and treatment focuses on correcting the underlying cause with medication, oxygen therapy, moving to a lower altitude or quitting smoking.
Reduced Volume
Any condition that reduces the volume of plasma or fluid in the blood can produce a form of secondary polycythemia due to a higher percentage of red blood cells. Burns, diarrhea, dehydration, vomiting and taking medications that increase urination can produce this effect, even though the actual number of red blood cells is normal, according to the Merck Manual. Treatment involves correcting the underlying problem through hydration and, if indicated, changing medications.
Cysts or Tumors
Rarely, a cyst or tumor in the liver, brain or kidney stimulates production of a hormone called erythropoietin, or EPO, that enhances red blood cell production, according to the Merck Manual. Injections of erythropoietin for the purpose of enhancing athletic performance, known as EPO doping, also stimulates red blood cell production. Symptoms include headache, fatigue, dizziness and visual disturbances.