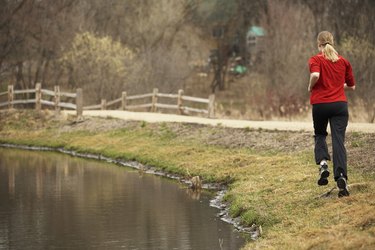 What to Look For
According to Consumersearch, "A study published in the British Journal of Sports Medicine in October 2007 found that low- and medium-cost running shoes offered the same cushioning and support as more expensive running shoes." The best affordable running shoes should be durable, well-cushioned, lightweight and designed specifically for your foot type and running style. The basic types of running shoes are classified as neutral, motion control and stability. Runners with normal arches should buy a neutral shoe. Those whose feet tend to roll outward while running need motion control shoes. Runners whose feet tend to roll inward need stability shoes.
Common Pitfalls
There is no generic one-shoe-fits-all running shoe. Buy the correct shoe for your foot type and running style and do not buy shoes only for color or style. Use your running shoes only for running and replace them after 300 to 500 miles of use when they will have lost most of their cushioning. Only buy from known, established companies with good reputations. Asics, Brooks, New Balance, Nike, Adidas, Saucony and Mizuno are the top companies.
Where to Buy
Running shoes costing less than $100 can be bought from specialty retailers such as Foot Locker, Road Runner Sports, Runners Warehouse and Zappos. Top shoe companies replace or upgrade many of their best models every year, so look for seasonal sales and discounts on models that have been discontinued. When ordering online, remember to order shoes that are a half-size larger than your regular shoe because your feet expand as you run.
Cost
The Asics Gel-1150 is a highly rated stability shoe that costs $75 to $80. Mizuno Wave Nexus 4 is another good stability shoe selling for $75 to $85. The Saucony ProGrid Jazz 13 is a good value for neutral runners at $65 to $80. Another Saucony neutral shoe is the popular and affordable Grid Cohesion NX at $45 to $55.