An occipital stroke occurs when the occipital lobes of the brain are damaged due to a lack of oxygenated blood. A stroke is often caused by problems with blood flow in the brain, such as a blocked artery or an artery that has burst. Damage to the occipital lobes causes visual problems, which vary based on the stroke's severity.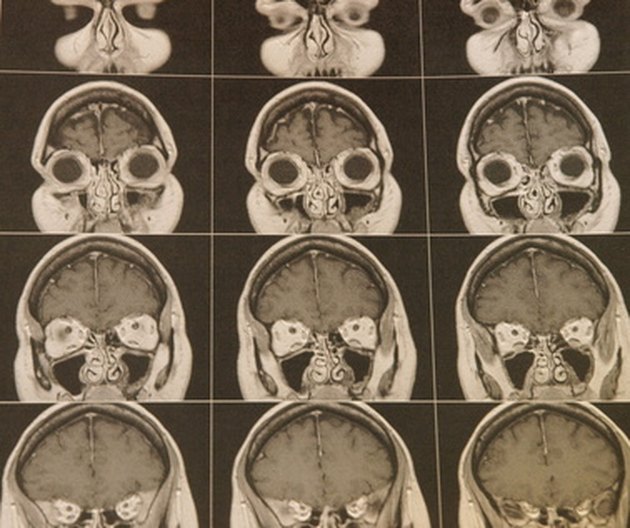 Significance of Occipital Lobe Stroke
The occipital lobe is the part of the cortex located in the back of the brain. It acts as the body's visual information storage center. The occipital lobe stores information from the nerves in the eyes for future reference, like an encyclopedia for the eyes. We recognize colors, shapes and faces by comparing what we see to what is already stored in our occipital lobes. This helps us to recognize objects and interpret what happens in the world around us. Damage to the occipital lobes interrupts this process, as it disrupts this system of visual processing.
Object Recognition
An occipital stroke can cause any number of visual problems, depending on how severe the stroke is and where in the occipital lobes it occurs. Merck reports that the front portion of the occipital lobes is responsible for object recognition. Damage to this area may cause a person to have trouble categorizing what they see. For instance, they may look at a pencil and be able to describe it, though they may not be able to say what it is or how it is used. Additionally, this area also helps us recognize familiar faces. A person with frontal occipital lobe damage may not know a member of their family until they hear them speak.
Blindness
According to Merck, there is a specific type of blindness associated with occipital lobe damage called cortical blindness. This occurs when both sides of the occipital lobes have been damaged, such as after a stroke. Unlike most types of blindness, cortical blindness makes a person unable to interpret anything in the world around them. Merck reports that the person's eye function remains intact; it is their processing that is impaired. Some people may not even be aware they are blind.
Function After an Occipital Stroke
The good news is an occipital stroke typically does not cause physical disabilities, unless the stroke occurs in more than one area of the brain. Unfortunately, however, any damage to the visual processing system still causes difficulty functioning in daily routines. After an occipital stroke, a person may have difficulty with simple tasks such as cooking or getting dressed, and may have to learn to do those routines in a different way. Additionally, depending on the degree of visual problems, they may also be unable to drive.
Stroke Recovery
Occupational therapy can help a person compensate for visual deficits following an occipital stroke. Additionally, as the brain recovers from the initial damage, it is possible some function may return. Merck reports sometimes after a stroke, other areas in the brain may take over for those that were damaged. However, it is difficult to determine whether or not this will happen in any given case.
Is This an Emergency?
If you are experiencing serious medical symptoms, seek emergency treatment immediately.