Dizziness can be a frightening experience and can happen to anyone. According to the Merck Manual, 40 percent of individuals older than the age of 40 will experience dizziness. There are several different etiologies that may cause dizziness upon standing or waking up. Fortunately, 95 percent of the causes of dizziness are not a serious condition, notes the Merck Manual.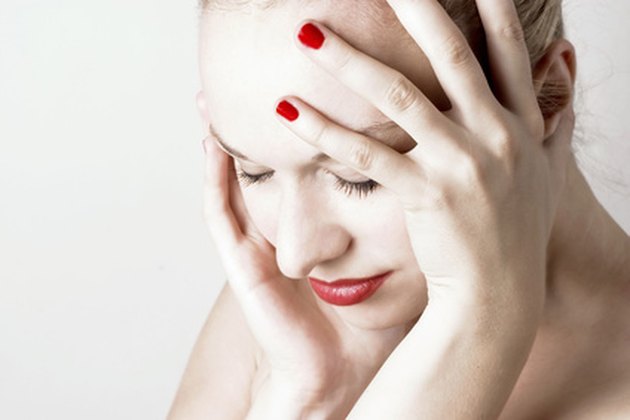 Definition
The University of Maryland Medical Center defines dizziness as a feeling of light-headedness, faintness, vertigo, unsteadiness or difficulty keeping your balance. It is important to note what type of symptom you experience when you are dizzy, so that your doctor can correctly diagnose the cause.
Types of Dizziness
Dizziness upon standing or waking up may be classified as presyncope or vertigo. Presyncope is a sensation of light-headedness or faintness without actually fainting. Vertigo is a sensation that you or your environment is whirling or moving.
Causes
Presyncopal causes of dizziness upon standing or waking up may include: orthostatic hypotension; arrhythmias; heart attack; dehydration; illness; and stroke. Orthostatic hypotension is a sudden drop in blood pressure that occurs when you sit up or stand up.
Vertigo may be caused by: benign paroxysmal positional vertigo; Meniere's disease; acute vestibular neuritis; acoustic neuromas; migraines; or certain medications. Benign paroxysmal positional vertigo or BPPV, is the most common cause of vertigo, according to the Mayo Clinic. It is caused by accumulation of crystals in your inner ear, which causes your brain to respond abnormally to head movement. Dizziness caused by BPPV is felt only when your head is moved. Meniere's disease is characterized by the accumulation of fluid in your inner ear, resulting in vertigo that lasts for 30 minutes up to a few hours. Acute vestibular neuritis is a condition in which your inner ear becomes inflamed. This may be caused by upper respiratory infections, inner ear infections, allergies and certain medications. An acoustic neuroma is a benign lesion of the vestibular nerve in your ear that results in vertigo, difficulty balancing, loss of hearing and ringing of the ear.
When to See Your Doctor
The University of Maryland Medical Center recommends that you see your doctor if: you experience new onset dizziness; your dizzy spells are progressively becoming longer or worse; you cannot perform daily activities; you experience loss of hearing; or you believe a medication might be causing your symptoms. You should go the emergency room or call 911 immediately if you: faint; experience chest pain or palpitations; are short of breath; feel weak or cannot move your leg or arm; have blurred vision or loss of vision; are unable to speak normally; have a fever greater than 101 degrees Fahrenheit; your neck is stiff; you have injured your head; or you experience convulsions.
What You Can Do at Home
Lie down if you are feeling dizzy to avoid falling and hurting yourself. Also avoid changing your body position suddenly, such as standing up or turning your head too fast. Drink fluids if you are dehydrated and feeling light-headed.
Prevention
Acute vestibular neuritis and Meniere's disease may be prevented by seeking treatment as soon as possible for upper respiratory infections, ear infections, sinus infections and the flu.