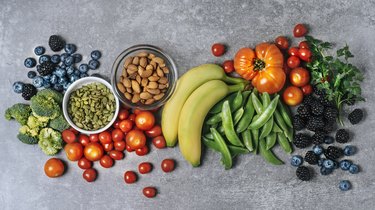 When it comes to food, there are some cases when too much of a good thing can be harmful. Take ice cream sundaes, for example, or deep-fried cheese curds. You might even overdo it by eating too many fruits and vegetables, but you would have to consume a large quantity to see a detrimental effect on the body. Using a calorie counter is a good way to keep track of your daily nutrition.
Too Much Fruit
If weight is your primary concern, it's easier to go overboard with fruit than with veggies. Dr. Melina Jampolis, physician nutrition specialist for CNN.com, wrote in an article that fruits have about three times the average calorie count of vegetables, so you should stick to a maximum of three servings per day if you want to slim down. Providence Nutrition Services registered dietitian Terese Scollard wrote that eating much more than 2 cups of fruit per day means you may be following an imbalanced diet that doesn't fulfill your nutritional needs from other food groups.
Too Many Carbs
Science Daily says there is little benefit from eating more than three to four servings, or 375 to 500 grams, of fruits, vegetables and legumes per day. Beyond that amount, you may be consuming too many carbohydrates in the form of sugar.
Fruits highest in carbohydrates are grapes, bananas, mangos, sweet cherries, apples, pineapples, pears and kiwi fruit, says The Paleo Diet. Dried fruits have a sugar content closer to that of commercial candy than their fresh counterparts. Choose fruits that are low in sugar, such as avocados, lemons, limes and raspberries.
Eating Too Many Veggies
Calorie-wise, it's harder to overindulge on veggies because most are only about 35 calories per serving. Licensed nutritionist Monica Reinagel suggests limiting starchy vegetables like yams, potatoes, corn, beans and peas but not worrying about eating too many vegetables.
However, if you're downing more than seven servings of veggies daily and your skin is taking on an orange hue, you're unintentionally losing weight or you're experiencing unpleasant digestive symptoms, try backing off on the veggies and seeing your doctor.
Too Much Fiber
Many fruits and vegetables are naturally rich sources of fiber. Fiber, in recommended amounts, is one of the healthiest nutrients for your body – it encourages healthy digestion, prevents blood sugar spikes, lowers cholesterol and blood pressure levels, eases hunger pangs and lowers your risk of obesity and premature death.
But eating too many fruits and vegetables can have a negative effect due to the excessive fiber. According to Columbia University's health department, excess fiber in your diet can lead to diarrhea after eating vegetables in addition to more serious problems, such as nutrient deficiencies, abdominal discomfort, digestive difficulties and even blocking of the gastrointestinal tract.
A Healthy Balance
Unless you're consistently eating more than four servings of fruit and seven servings of veggies per day, you're probably enjoying more benefits than harm from your fresh food habit. The healthiest diet is one that's balanced, however, so eat plenty of whole grains, lean protein and low-fat dairy along with your fruits and veggies. Before making any big changes to your current eating plan, get the go-ahead from your doctor.