Toe infections typically cause pain, redness, warmth and swelling and may result from a cut, injury, ingrown toenail or other problem. The swelling may be severe enough to interfere with walking and daily functioning. Depending on the cause and severity of your infection and swelling, you may require antibiotics or more aggressive treatment. Swelling associated with minor infections, however, may be treatable at home.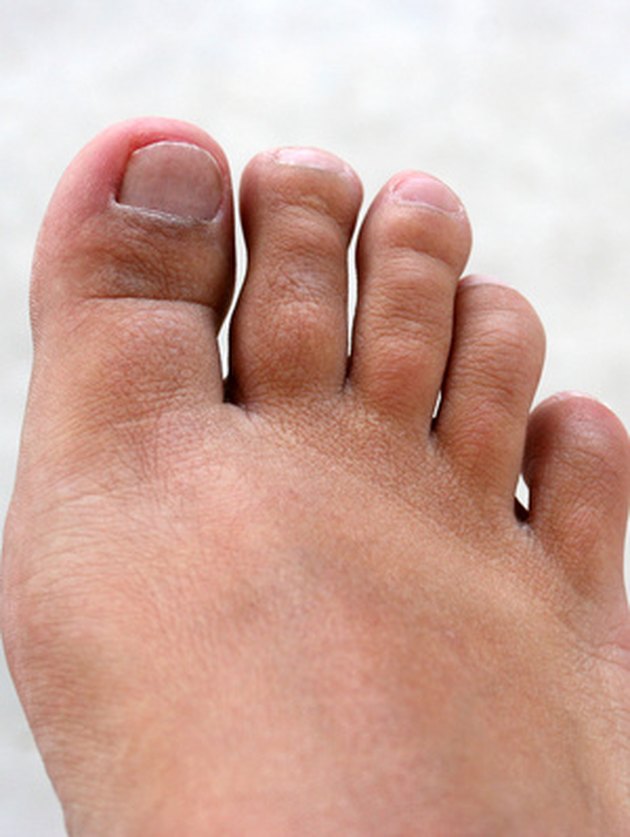 Step 1
Apply a cold compress to the affected toe to reduce the swelling and ease any pain. An ice pack or ice cubes wrapped in a damp towel are equally effective. Do not apply ice directly to your skin, as doing so can lead to tissue damage and increased pain.
Step 2
Use warm compresses when treating swelling caused by paronychia, which is an inflammation and infection of the nail fold. According to Drugs.com, warm compresses can decrease swelling and pain when applied to the affected toe.
Step 3
Take an over-the-counter anti-inflammatory drug, such as ibuprofen or naproxen, to alleviate swelling and inflammation. Prescription-strength anti-inflammatory medications are also available.
Step 4
Soak the infected toe in a tub of warm water for 15 to 20 minutes. This is especially beneficial if an infected ingrown toenail is causing your swelling. The American Academy of Orthopaedic Surgeons recommends soaking your toe three or four times each day.
Step 5
Elevate your foot and toe when sitting and sleeping to reduce swelling and stay off your feet as much as possible. Walking on your toe can worsen swelling and delay healing.
Step 6
Use topical antibiotic ointments and other medications as directed by your doctor. KidsHealth.org states that washing the infected area with an antibacterial cleanser may be beneficial.
Things You'll Need
Ice pack

Over-the-counter anti-inflammatory medication
Warning
Call your doctor for an immediate appointment if you develop a fever or increased redness, swelling, pain or discharge. These symptoms may indicate a serious infection that requires prompt medical attention. Other symptoms of a worsening infection include chills, nausea and red streaks running outward from the injury site.