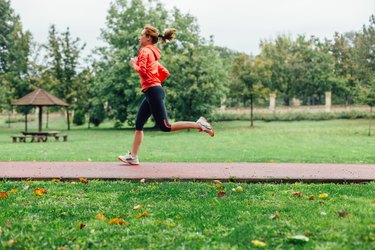 While other athletic activities call for special gear, a good pair -- or two -- of shoes is just about all cross-country runners require. High school cross-country competitors race on hills and straights, so make sure your 14-year-old gets a leg up on the competition with the right shoes.
Gait Analysis
Have an expert analyze your gait to find out if you're a pronator or neutral runner. Over- and under-pronators often need support shoes designed to help minimize ankle rolling during running. Generally, neutral runners can stick with lightweight, neutral shoes, depending on their gait and body type.
Trainers
Cross-country runners typically need two types of shoes for the season: trainers and racers. Wear the trainers for all running workouts and practices. Racers, on the other hand, are just used to race. Because you'll spend the vast majority of your time running in trainers, these shoes are particularly important. Shoes designed for trail running are ideal because they're made to withstand rougher environments and have soles with better gripping to maximize footing on uneven terrain. Find a trail shoes that's appropriate for your gait, fits the width of your foot and provides adequate arch support.
Racers
Many athletes choose to run in cross-country spikes during races. These shoes come with metal or rubber spikes, are extremely lightweight and provide very little support. Essentially, these shoes are designed to simply protect your feet from the ground and give you extra footing and speed on loose ground and hills. You shouldn't run in spikes except during competition, and always check with race officials to make sure spikes are allowed on the course.
Bring in the New
Depending on the frequency of your races, most runners can get a few seasons out of their spikes as long as the take care of them. Trainers, on the other hand, will likely need to be replaced each season. Most running shoes can last 300 to 500 miles or more, but there are many variables that come into play with shoe life, including gait, the weight of the runner and the environment and terrain they're used in. If you notice your legs feeling heavy or your feet begin to hurt when running, it may be an indication that your shoes have broken down and need to be replaced.