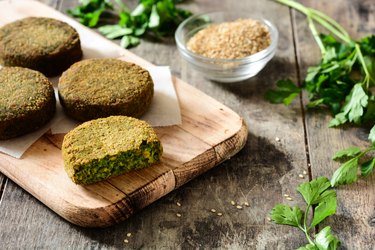 More fast food and casual dining restaurants are introducing vegetarian, vegan and plant-based menu items to meet the demand for meatless entrees. Subway is one example, but you may be wondering, "What's on the Veggie Delite at Subway?" Similarly, you may wonder, "Is the Veggie Patty at Subway vegan?"
Ordering vegetarian options at Subway is a great way to consume more veggies and get more fiber. Plus, the Veggie Patty calories are relatively low, making it a suitable option for people following a low-calorie diet. Both vegans and vegetarians, as well as carnivores, can find something healthy and tasty on Subway's menu.
Subway Meatless Options
Vegetarians who consume some animal products, like cheese, have a few more options at Subway than vegans. They have a wider selection of bread, whereas vegans must stick to the Italian and 9-Grain Wheat breads. Plus, vegetarians can order menu items that contain dairy and eggs.
One such vegetarian option at Subway is the Veggie Patty. However, there is a catch. The Veggie Patty is available at many international Subway locations, but it is less common at American stores. It also contains milk and eggs, so it is not suitable for vegans.
When you look past the various meats and cheeses at Subway, you realize that the majority of the toppings are vegetarian-friendly. Vegans and vegetarians have a plethora of veggies to choose from. Some Subway locations are also introducing a Beyond Meatball submarine sandwich.
If you can't find the Veggie Patty at your local Subway, opt for the Veggie Delite. This is essentially a veggies-only sandwich served on the bread of your choice. Pile on the veggies and consider adding condiments like olive oil, vinegar, salt and pepper. Subway can also turn any sandwich into a wrap instead.
Subway Nutrition Facts for Vegetarians
If you can find a location that serves the Subway Veggie Patty, here's what you need to know. According to Subway International nutrition tables, the Veggie Patty calories are 398 per 6-inch sub. It also contains 22 grams of protein, 53.9 grams of carbohydrates and 9.6 grams of fat.
The Veggie Patty calories are greater than those of the Veggie Delite. According to the Subway nutrition facts, the Veggie Delite contains 200 calories, 2 grams of fat, 39 grams of carbohydrates, and 9 grams of protein. It also contains 5 grams of fiber. According to Mayo Clinic, getting enough fiber is important for bowel health, cholesterol levels and blood sugar levels.
So, what's on the Veggie Delite at Subway? In short, whatever bread and vegetables you like. The Veggie Delite comes with unlimited veggies. According to the USDA, the recommended amount of vegetables for adults is 2-3 cups per day. The Veggie Delite will help you reach that target.
Depending on your goals, the Subway nutrition facts may help you determine which meatless option is best for you. If the Veggie Patty calories are of concern, go for the lower-calorie Veggie Delite. If you want to increase your protein intake, the Veggie Patty contains approximately twice the amount of protein.
Try the Vegetarian Options
Even if you are not vegan or vegetarian, you may enjoy Subway's meatless options while banking on some of the benefits of a plant-based meal. According to the U.S. Department of Agriculture, you should vary your protein sources. They specifically recommend increasing your intake of protein from plant foods.
The Veggie Patty contains fewer calories than other fast-food options, so it is a good choice for people who need a convenient option without compromising on their health and nutrition goals. However, it can be difficult to find since it is mainly sold at international Subway locations.
One meatless option available at all Subway locations is the Veggie Delite. The next time you're wondering what's on the Veggie Delite at Subway, remember that this low-calorie sandwich comes with unlimited veggies. Not only will this help you rake in your vegetable servings as well as vitamins and minerals, this sandwich can also help you meet your fitness goals.