In a fast food culture abundant with over-sized hamburgers, triple thick shakes and extra large French fries, it can be difficult for vegetarians to find food options. Subway is one fast food chain that offers vegetarians and even vegans a few menu options. Although not available in every store, the Subway VegiMax sub features a a vegetarian patty made from vegetables.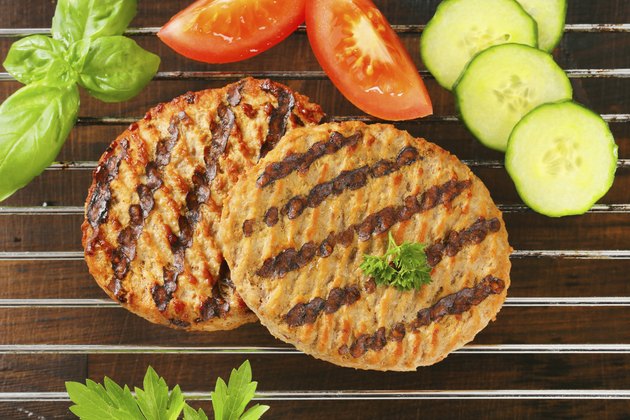 Nutrition Facts
The Subway VegiMax sub on 6-inch wheat or white bread with standard vegetables and no cheese contains 390 calories, 24 g of protein, 56 g of carbohydrates, 7 g of sugar, 8 g of fat and 1.5 g of saturated fat. It also contains 1,030 mg of sodium and 7 g of fiber. Adding cheese to the sub will add around 100 calories while dressings may add another 40 to 100 calories per 1.5 tbsp. serving.
Ingredients
The VegiMax ingredients, as stated by Subway, include: "vegetables (mushrooms, water chestnuts, onions, carrots, green and red bell peppers, black olives), textured vegetable protein (soy protein concentrate, wheat gluten, water for hydration), egg whites, cooked brown rice, rolled oats, corn oil, calcium caseinate, soy sauce (water, soybeans, salt, wheat), contains 2% or less of onion powder, corn starch, salt, hydrolyzed corn, soy and wheat protein, autolyzed yeast extract, natural flavors from non-meat sources, sugar, soy protein isolate, spices, garlic powder, dextrose, jalapeno pepper powder, celery extract."
Health Considerations
The VegiMax contains a high amount of sodium -- 1,030 mg. The American Heart Association recommends individuals consume less than 1,500 mg of sodium a day.
The healthiest way to order the VegiMax sub is to order it on the wheat bread, without cheese and with a variety of vegetables. Avoid the high-calorie dressings and opt for olive oil, vinegar or the sweet onion sauce.
Subway's Vegetarian Options
Subway introduced the VegiMax to be able to offer vegetarians another option in addition to the Veggie Delite sub. However, the VegiMax is not vegan because it contains egg whites and calcium caseinate. Subway also offers salads, Fruizle Express smoothies and a minestrone vegetable soup.
Other Fast Food Vegetarian Options
Despite the lack of options, many fast food restaurants generally have a few vegetarian options. Vegetarians may order a bean burrito served fresco style, bean tacos or nacho chips from Taco Bell. Qdoba and Chipotle both serve veggie grilled burritos. Jamba Juice offers fruit smoothies, oatmeal and fresh juices, and even some burger restaurants such as Burger King have veggie burgers.