Abundant in vegetables, whole grains, legumes and other protein-rich ingredients, vegetarian Indian food can be a great option if you're trying to avoid meat but still want a healthy, satiating meal.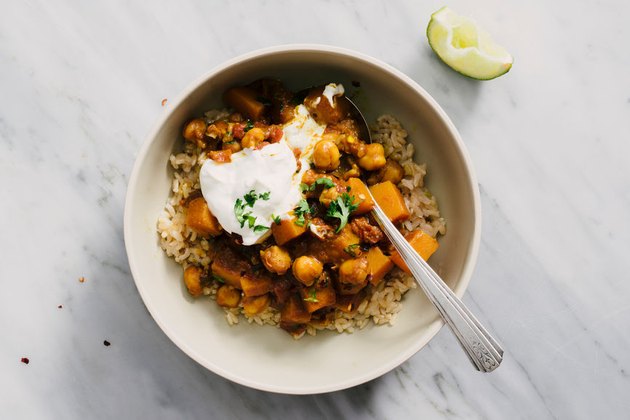 Do you want to lose weight or be healthier? Join MyPlate Calorie Counter and get access to free meal plans, healthy recipes and at-home workouts. You'll also get daily calorie and macro goals for your fitness journey. Don't miss your chance for amazing results. Sign up today!
In fact, a 2009 study published in Diabetes Care reports that people following vegetarian diets generally weigh less than non-vegetarians. Here's a list of protein-rich foods for vegetarians commonly used in Indian cuisine — plus some flavorful, healthy Indian vegetarian recipes to get you started.
1. Legumes
Legumes are common ingredients in Indian vegetarian recipes (often listed with a name containing "dal" or "matar"). They're not only packed with fiber, iron, phosphorous, potassium and B vitamins, they're also rich in protein. Some common legumes found in vegetarian Indian dishes include: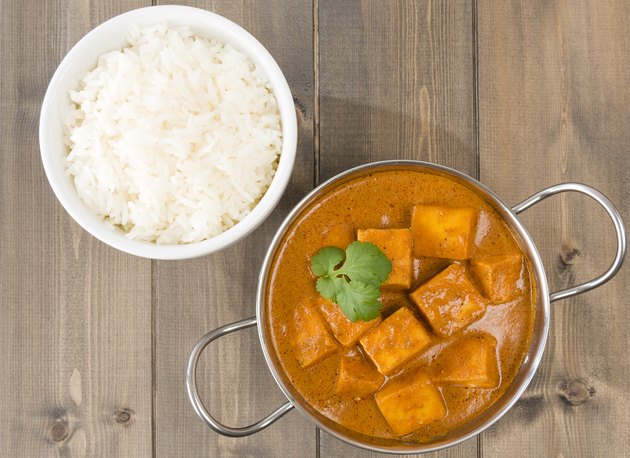 2. Dairy
Many dairy foods in a protein-rich diet are commonly incorporated into vegetarian Indian dishes. Calcium-fortified non-dairy substitutes, such as soy milk and soy yogurt, are also excellent sources of protein. You can expect to see these ingredients in popular Indian dishes:
Milk

Yogurt

Paneer

Chhena
Gulab jamun
Kheer
Ghee
Raita is a popular Indian condiment made with yogurt, cucumber, and spices like coriander, cumin and curry. And paneer, a fresh cheese common in Indian cuisine, can be cooked into a delicious sauce or gravy, often with tomatoes, onions, garlic, spinach and spices.
3. Tofu and Soybeans
If you want a dairy-free alternative to paneer, consider tofu — also known as bean curd — which is a plant-based complete protein that makes an excellent addition to vegetarian Indian dishes.
Tofu is also rich in polyunsaturated fatty acids, including omega-3 fats, which makes it heart-healthier than high-fat meats containing saturated fat. Many dishes also feature soybeans (edamame), which also contain lots of protein and healthy fats.
4. Nuts and Seeds
Cashews

Almonds

Walnuts

Pistachios

Pumpkin seeds
If you're worried about keeping your blood pressure in check, choose unsalted nuts.
5. Grains
Though not as high in protein as some of the other foods on this list, grains do contain some protein. And what's more, when combined with other vegetarian proteins like lentils, they create complete proteins, meaning they provide all essential amino acids that our bodies can't produce on their own. Some examples include:
Barley
Millet
Wheat germ
Brown rice
Basmati rice
Buckwheat
Quinoa
Amaranth
Sorghum

6. Vegetables
Though it ranks lowest in protein, there is still some protein in certain vegetables. And in many vegetarian Indian dishes, veggies are the star. That's because they're relatively inexpensive compared to meats and are nutrient-dense, meaning that they have a high concentration of vitamins and minerals and a lower calorie count. A few veggies you may find in an Indian dish include:
Brussels sprouts
Cauliflower
Eggplant
Artichokes
Beets
Mustard greens
Spinach
Turnip greens
Broccoli
Mushrooms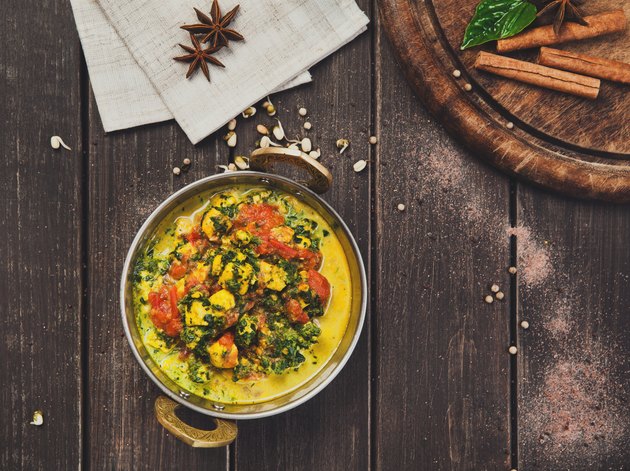 14 Protein-Rich Indian Food Recipes
Ready to put this list of high-protein vegetarian Indian ingredients to good use? Throw on an apron, whip out your pots and pans and get ready to take your taste buds on a culinary journey.