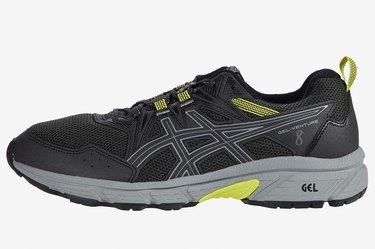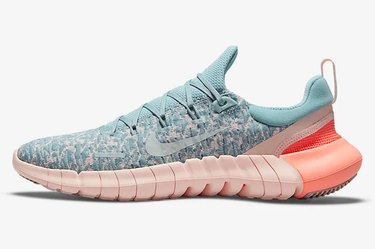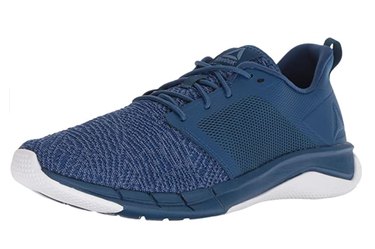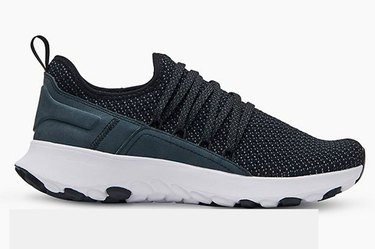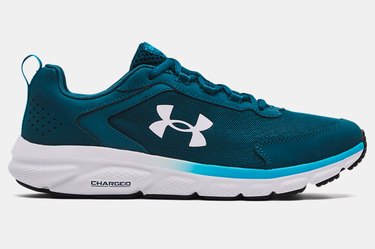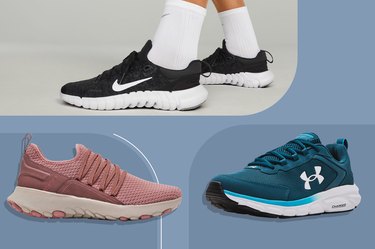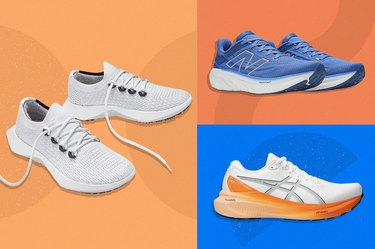 If the elliptical is your go-to cardio machine, you may have noticed that there aren't really sneakers designed specifically for it — and not just any workout shoe makes for a good elliptical shoe.
Fortunately, there are plenty of high-quality options that fit the bill. Here are seven of the best shoes for elliptical workouts, plus more tips on what to look for when shopping for your perfect pair.
To find the best elliptical shoes on the market, we spoke with certified personal trainers about what to look for and their favorite picks. Our selections are based on criteria. You can learn more about how we cover products here.
Comfort

Traction

Breathability

Flexibility
A Quick Language Note
We make deliberate choices about the language we use when it comes to gender. But because manufacturers typically market shoes according to gender, we've listed both women's and men's picks below.
However, the main difference between most men's and women's shoes lies in the shoe width and size. In some cases, men's shoes are built to support greater weights. So people with bigger bodies may want to opt for men's versions, whereas people with smaller bodies may prefer women's versions.
1. Best for Budget: Asics GEL-Venture 9
AMPLIFOAM™ cushioning
Higher stack height
GEL® technology
Modified to provide better cushioning, the GEL-Venture 9 is made with materials designed to support you on a variety of surfaces, including the elliptical.
The midsole includes AMPLIFOAM™ cushioning and a higher stack height — which, combined with GEL® technology, help create a softer and more comfortable underfoot experience.
"This shoe offers good cushioning, traction and durability at an affordable price, making it an excellent budget-friendly option for elliptical workouts," says Anthony O'Reilly, CPT, a certified personal trainer for Garage Gym Reviews.
2. Best for Style: Nike Air Max 270
Lightweight, airy upper
Low-cut collar
Sleek, running-inspired design
Available in a variety of colors (like black, rose and neon pink), this sleek running shoe is classic Nike, and its lightweight design is breathable.
"This shoe is popular for its blend of functionality and style," says Caleb Backe, CPT, a certified personal trainer for Maple Holistics. "While they are slightly more on the expensive side, this shoe can be used for elliptical workouts as well as a night out on the town."
Reviewers of this shoe point out its comfort and "cool" factor.
3. Best for Heel Support: Asics GEL-KAYANO 30
More cushion
PureGel™ technology
4D Guidance System™
Asics' new PureGEL™ technology is positioned below your heel in these shoes for a smoother run — and is 65 percent softer than conventional visible GEL™ technology.
"These kicks are renowned for their excellent heel support and stability, making them extremely beneficial for elliptical workouts," Backe says. "With a smooth stride delivered by the trainer's innovative GEL technology, you can experience a gentler landing without compromising pace."
The increased heel bevel helps to control impact and create smoother transitions. Plus, this shoe's new 4D Guidance System™ guides your foot and helps you adapt as your running form changes over distance.
4. Best Eco-Friendly Pick: Allbirds Tree Dasher 2
FSC-certified TENCEL™ Lyocell (eucalyptus tree fiber) upper
SweetFoam® midsole made with sugarcane-based green EVA
FSC-certified natural rubber outsole
Shoe laces made from recycled plastic bottles
These trainers are made with sustainable materials, such as eucalyptus tree fiber, sugarcane-based plastics, natural rubber and recycled plastic bottles (for the shoe laces).
But they're not just eco-friendly — they're also designed for comfort, so you can make your elliptical workouts more enjoyable.
"Its new and improved heel design contains a heel collar, which ensures the shoe is a tight fit, but still allows for breathability and flexibility," Backe says. "It's also created using responsive foam, which makes it even more comfortable."
5. Best for Cushioning: Asics GEL-NIMBUS 25
PureGEL™ technology for lightweight cushioning
FF BLAST™ ECO PLUS technology (the cushioning creates a softer landing and a more responsive toe-off)
OrthoLite™ X-55 sockliner for step-in comfort
Designed for a softer and smoother run, these highly cushioned shoes deliver gentle landings for your elliptical run.
"With gel technology in the heel and forefoot, it's like walking on air," says Ingrid Clay, CPT, a certified personal trainer for Centr. "This gel cushioning not only cradles your feet, but also keeps your knees smiling by absorbing those high-impact forces. It's perfect for a cloud-like elliptical session."
Plus, this shoe's upper is soft and stretchy for a flexible fit.
6. Best for Men: New Balance Fresh Foam X 1080v13
Fresh Foam X midsole foam with approximately 3 percent bio-based content
Ndurance rubber outsole for increased durability in high-wear areas
"Second-skin" upper mesh for breathability
As New Balance puts it: "If we only made one running shoe, it would be the Fresh Foam X 1080." It has an ideal all-around combination of reliable comfort and versatility for men, and can be worn for everyday use, elliptical training, outdoor running and more.
"This is a versatile shoe that offers comfort and support," O'Reilly says. "It's available in various widths, making it suitable for a wide range of foot shapes."
Fresh Foam X midsole cushioning creates smooth transitions for landing and push-offs, while the mesh upper is both supportive and breathable.
7. Best for Women: Saucony Kinvara 14
WRRUN+ sockliner for comfort
Newly designed rocker shape
Lightweight design
This is an ultra-flexible daily trainer that can take you from the gym to the track.
"These trainers combine support and comfort for elliptical workouts," Backe says. "The lightweight design keeps you balanced and agile on your feet, which helps keep you in tune with your surface and improves performance. Made with breathable fibers, this lightweight shoe is ideal for women."
6 Things to Look for in an Elliptical Shoe
No matter if you're walking, running or using the elliptical, sneakers should be snug but not tight. You should have some room around the balls of your feet, and the heels should stay secure while you glide your legs back and forth on the elliptical. (No slipping up and down!)
If the ball of your foot feels squeezed or compressed, consider looking for a wider width, according to Harvard Health Publishing.
Hiking or trail running shoes are often a good bet here because the soles of theses shoes are designed for running over dirt and rocks. Some of the best shoes for elliptical training can be lightweight cross-trainers, provided they have a solid rubber outsole with plenty of grip.
"The texture of the elliptical footbed is not flat, so a good amount of traction is needed to ensure safety and prevent slipping," Karmali says.
Consider the weight of your sneaker, too. You don't need anything clunky or heavy for an elliptical workout, Karmali points out. Ultralight sneakers aren't the best choice either because they usually lack support and extra traction. That's helpful if you're trying to be speedy on a run, but on an elliptical, you want comfort, traction and stability over everything else.
Something in the middle — medium to lightweight but sturdy — is ideal, Karmali says. When shopping, look for shoes that have some cushion and good traction on the soles. Avoid shoes marketed as "barely there" or, the other extreme, ones that have high levels of dense cushioning.
You don't need to worry about keeping your feet warm when you're exercising indoors on the elliptical. It's more important, in this case, to find shoes that let your feet breathe.
A mesh upper can offer maximum breathability to keep your feet cool and prevent sweat build-up that can cause blisters and discomfort, says Karmali.
A flexible sole is important for keeping your feet comfortable as you pedal. "If the outsole isn't flexible and doesn't move with you, it can cause blisters and other potential injuries as the foot is not supported and rubbing against the shoe," Karmali says.
The best shoes for the elliptical trainer have both a flexible sole and a mesh or knit material on the top of the shoe to fully allow your foot to flex and bend where you need it to.
Stability may not seem that important because your foot is staying stationary on the elliptical the entire workout and not pounding the pavement. But even when your foot is in contact with the elliptical foot pedals, your feet and ankles need to be stable in your shoe to keep your feet in a flat position and avoid rolling into your arches or the outside of your foot.
Was this article helpful?
Thank you for your feedback!