Whether silky-smooth and cold-smoked, served over a cream cheese-smeared bagel, or as the hot-smoked, richly flaky, rosy-pink centerpiece of a charcuterie platter, smoked salmon is a culinary indulgence that can easily be purchased in regular grocery stores as well as specialty food shops. While salmon is a nutritious and healthy protein choice, smoked salmon increases the sodium content of the fish.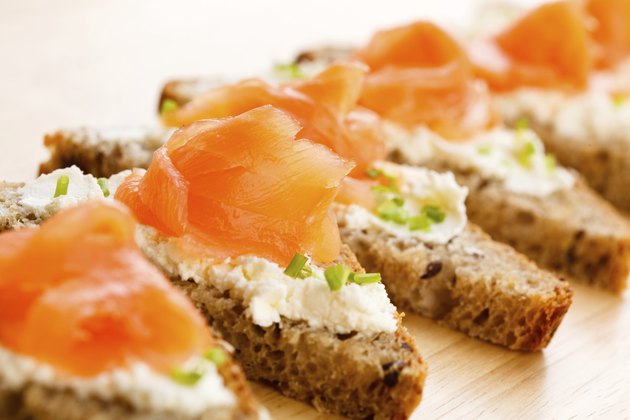 Cold-Smoked Salmon
Luxuriously textured, cold-smoked salmon, also known as lox, is still rich in a number of nutrients, although it is high in sodium. Cold-smoked salmon is produced by slowly smoking salmon between 70 and 90 degrees Fahrenheit. The whole process can take between one day to three weeks. According to the U.S. Department of Agriculture's National Nutrient Database, a 3-ounce serving contains 99 calories and 1,700 milligrams of sodium. A rich source of phosphorous and potassium, with 139 milligrams and 149 milligrams, respectively, cold-smoked salmon still has more than half of the daily recommended intake of sodium for adults, which tops out at 2,300 milligrams.
Hot-Smoked Salmon
Hot-smoked salmon produces fish that is cooked entirely through. The process, which occurs between 120 and 180 degrees Fahrenheit, takes between six and 12 hours. Unlike cold-smoked salmon, hot-smoked salmon flakes and is most frequently sold in filets rather than slices or sides. A 3-ounce serving of hot-smoked salmon contains 99 calories per serving but only 571 milligrams of sodium. It contains the same amount of phosphorous and potassium as cold-smoked salmon.
Fat Breakdown
Both types of smoked salmon are rich in omega-3 fatty acids, also known as polyunsaturated fats. According to the University of Maryland Medical Center, omega-3 fatty acids are associated with a reduced rate of heart disease, lower risk of arthritis, improved cardiovascular health and improved cognitive function. A 3-ounce serving of cold-smoked or hot-smoked salmon contains almost 1 gram of polyunsaturated fats, over 1.7 grams of monounsaturated fats, less than 0.8 grams of saturated fat and only 20 milligrams of cholesterol.
Sodium Consumption
Too much sodium has been associated with poor cardiovascular health, and the American diet generally contains more sodium than needed. The recommended daily intake of sodium is 2,300 milligrams per day, but that drops to 1,500 milligrams for those with a history of high blood pressure, over 51 years old or of African-American descent. People with a history of congestive heart failure or severe heart disease may need to consume even less — speak with a medical professional to determine your recommended intake. If you wish to eat more salmon for its other health benefits, consider eating salmon that is cooked with little added fat or salt, as it is already naturally high in sodium.