Sun poisoning or polymorphous light eruption is a type of rash that results from the skin being exposed to too much sunlight, explains MayoClinic.com. Sun poisoning generally starts off as a really bad sunburn. It is important to always wear sun block or cover sensitive skin areas when outdoors, but if you have been out in the sun and have suffered a severe sunburn or red rash, you need to treat the areas immediately.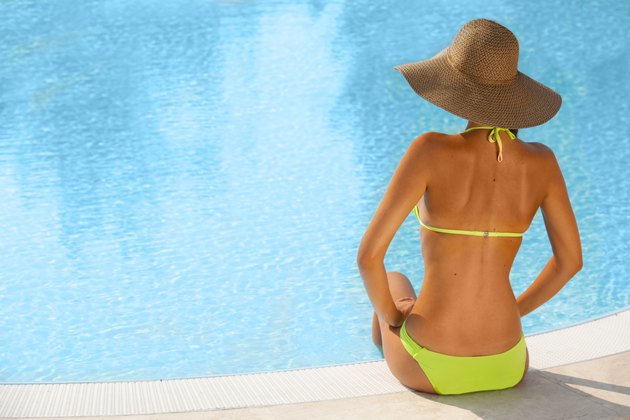 Step 1
Examine your skin for symptoms of sun poisoning. This generally occurs after an over-exposure to the sun with someone who has not been exposed to sun recently. This includes a bright red rash that may or may not have blisters of water, swelling, itching, intense burning, skin peeling, redness, blistering of the skin, chills, skin that is hot to the touch, nausea and general malaise.
Step 2
Remove clothing that is clingy or tight. Open air exposure is the best treatment but if you are in a public place or must wear clothing, choose something that is baggy or loose fitting that won't irritate the skin. Use a dry bandage if necessary to cover up open blisters or areas where the skin is beginning to peel. This will also help the burned area heal without rubbing up against clothing.
Step 3
Shower in cool water or apply wet towels to the skin to cool it; avoid placing wet towels over open sores or blistering skin areas. Add an ice pack if necessary to help dull the pain. Pat your sensitive skin dry; do not rub or try to scrape away skin or the blisters.
Step 4
Administer pain medication. MedlinePlus explains using ibuprofen to help take the pain away and reduce inflammation. Avoid topical numbing solutions that have a petroleum base.
Step 5
Cover-up and avoid further UV exposure, including includes natural sunlight and the UV rays from a tanning booth or bed. The Occupational Safety and Health Administration states advises wearing protective clothing when going out in the sun and trying to avoid exposure during the time the sun's rays are the strongest, which is between 10 a.m. and 4 p.m.
Tips
Never use band aids or gauze that contains adhesive, this could rip sensitive areas of the skin. Some types of medications, including antibiotics, can cause a rash when exposed to the sun or make you more sensitive to UV light rays. Sun poisoning symptoms can last up to 7 days before the skin begins to heal and pain is lessened.
Warning
If your sun poisoning is severe, you may experience open wounds, bleeding, high fever and excessive white peeling skin. If these symptoms occur, seek medical attention as soon as possible.
Is This an Emergency?
If you are experiencing serious medical symptoms, seek emergency treatment immediately.