If being too thin makes you feel self-conscious or interferes with participation in high-school sports like football or hockey, sound strategies can help you gain pounds and achieve a weight that makes you feel better emotionally and physically, especially if your doctor has mentioned that it would benefit your health. Skip the unproven supplements and choose quality, nutritious foods to add calories. Exercise also makes you stronger and contributes to the development of lean muscle, so you don't just gain body fat.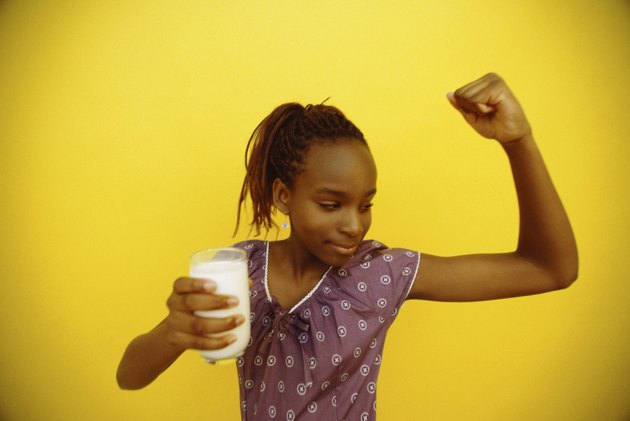 How Teens Gain Weight
When you're trying gain healthy muscle, aim to put on about 1/2 to 1 pound per week. A calorie surplus of 250 to 500 calories daily along with appropriate exercise helps you achieve this goal. Eat these calories in addition to those you need to maintain your weight. Ask your doctor to help you figure out this weight maintenance rate by taking into account your size, age, gender and how much exercise you get.
Larger portion sizes are one obvious way to add calories, but grazing regularly, never skipping meals and choosing nutritious, calorie-dense foods are other key strategies.
Getting enough sleep supports your efforts to achieve a healthy weight. Sleep provides time for brain development, release of growth hormone to support muscle development and bone growth. Get the required eight to 10 hours a night to help control your weight -- it will help you perform better at school, too.
Add Calories at Meals
Soda, sweets, pizza, fast food and junky processed snacks have lots of calories, but eating them liberally when you're trying to put on weight will lead to a fatter body, not a more muscular one. Choose high-calorie foods that also offer a fair amount of nutrients. Opt for dense, whole-grain bread instead of white varieties; choose hearty chili instead of a broth-based soup; eat granola instead of cereal flakes.
Embellish meals with extra calories, too. Add 1/4 cup of raisins to your morning cereal for an extra 110 calories; add 1 ounce of nuts to your lunch salad for 170 calories; add 1/4 of an avocado to dinner tacos for 80 calories. Cook hot cereal in milk instead of water, add dry milk powder to a glass of milk, add cheese to sandwiches or spread peanut butter on crackers or toast to bulk up other meals.
Snacks for Weight Gain
School, after-school activities and a weekend job mean you're not always near a kitchen to blend a high-calorie smoothie or meal. Carry healthy snacks with you to avoid resorting to a fast-food restaurant or convenience store for calories.
A 1/2 cup of trail mix offers about 350 calories, 1/3 cup of dried apricots has about 100 calories and 1/4 cup of dry-roasted cashews contains about 200 calories. Pack a peanut butter sandwich on whole-grain bread, a whole-grain muffin or yogurt for other healthy, portable snacks. If you don't have time to eat whole food when you're on the go, choose higher calorie drinks such as 100 percent fruit juice, milk or meal-replacement drinks between meals.
Mix a scoop of whey protein into a cup of milk and have it along with a banana after a workout to replace burned calories and support muscle growth and repair. Cheese sticks, hard-boiled eggs and deli meat are other easy snacks that provide protein and calories post-workout.
Exercise to Support Healthy Weight Gain
Being active burns calories, but you shouldn't avoid it because you're trying to gain weight. For optimal growth, you need an hour of activity daily. Cardiovascular activity supports a healthy heart and respiratory system -- so ride your bike, run with the track team or walk to school.
Some of your 60 minutes of daily activity can be spent in the weight room. Strength training supports muscular development and joint health. Train your whole body, including your hips, legs, chest, back, arms, shoulders and abs, with moves such as squats, lunges, triceps extensions, curls, presses and rows. To build muscle size, lift weights that are heavy enough to make eight repetitions the most you can do with good form. Do two or three sets of each exercise, and increase weight when eight reps feels too easy.
Train with weights on nonconsecutive days, such as Monday-Wednesday-Friday or Tuesday-Thursday. Consult with a coach or personal trainer to develop a program appropriate for your age and fitness level.
Realistic Weight Gain Expectations
As you reach puberty, your body naturally starts to fill out -- girls gain more weight in the hips and thighs, while boys' chests grow broader; boys and girls both gain more muscle mass. Not everyone reaches puberty at the same time, and you may need three to four years to fully develop.
Some body types are genetically lithe and lanky, so bulking up just doesn't happen. If your parents naturally tend toward a thin body type, you may too. You can eat more healthy foods and exercise to be the healthiest possible, but you won't change the natural tendency of your body to be thin.
Also, check in with your stress and your mood. Being overextended, feeling peer pressure or worries about school performance, as well as depression, could cause you to lose excessive weight. If you're anxious, overwhelmed or sad, seek guidance from a school counselor, a friend or family member.