The Captain Morgan brand of flavored rum is easily identified by its label, which features a grinning pirate with one leg propped on a barrel. Inspired by a seventeenth-century pirate, Sam Bronfman established the company in 1945. Captain Morgan rum is popular among low-carbohydrate dieters, as one serving contains very few carbs.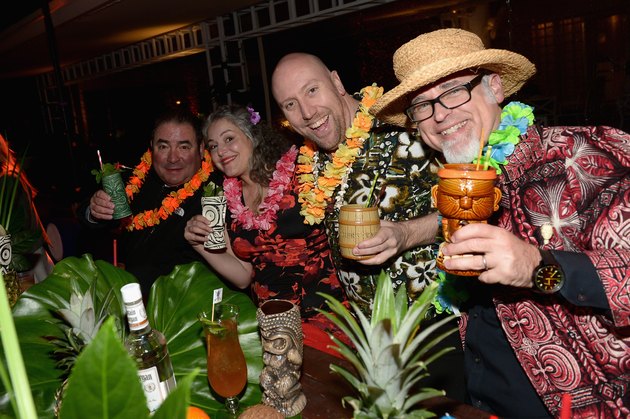 Flavors
Captain Morgan distributes eight types of rum. Original Spiced Rum is available in addition to Tattoo -- a dark version of the original recipe -- and Silver Spiced Rum. If you want a drink with a higher alcohol proof, opt for 100 Proof Spiced Rum. Lime Bite and Long Island Iced Tea are an option for those wanting to experience different flavors. Captain Morgan also makes Parrot Bay — tropical rum that features seven flavors, including coconut, pineapple and strawberry.
Serving Size
Captain Morgan spirits feature a variety of serving sizes. A serving of Original Spiced Rum, Private Stock and Silver Spiced Rum is 1.25 oz.; a Tattoo serving is 1.0 oz.; and a Parrot Bay serving is 1.5 oz.
Calories
Silver Spiced Rum has the fewest number of calories in the Captain Morgan family, offering 64 per serving. Sixty-nine calories are found in Tattoo, and Original Spiced Rum features 75 calories. Parrot Bay and Private stock each contain 94 calories in every serving. Keep in mind that if you mix another beverage with Captain Morgan, the number of calories you consume will increase.
Carbohydrates
Although Tattoo and Original Spiced Rum hold less than 0.4 g of carbohydrates per serving, the other beverages contain larger amounts that may damage your diet. Private Stock features 2.7 g and Silver Spiced Rum holds 1.6 g. If you drink a serving of Parrot Bay, you consume 7.8 g of carbohydrates.
Benefits
People who consume a moderate amount of alcohol reduce the risk of diabetes and heart-related health problems, says MayoClinic.com. Healthy men may drink 7 to 14 servings of alcohol each week, and women may consume up to 7 servings each week.
Warning
Avoid consuming Captain Morgan beverages if you are pregnant or nursing as it may cause birth defects, according to The March of Dimes. Drinking may impair your judgment; therefore, don't attempt to drive after consuming alcoholic beverages. If you currently have health issues, talk to your doctor before drinking Captain Morgan products or any other spirits.