Kids who fuel up in the morning with a breakfast high in carbohydrates and protein before heading off to school gain many benefits, both mental and physical. These benefits not only last throughout the school day, but also can contribute to overall health and school performance over the long term. According to the Healthy Children website, about 8 to 12 percent of school-age children skip breakfast entirely, and among adolescents, this rate is even higher, reaching up to 30 percent.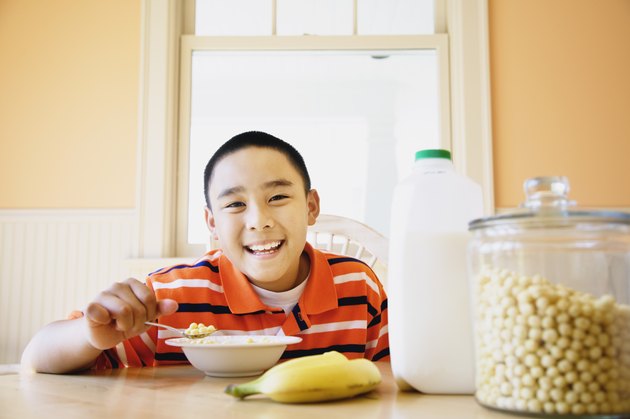 Brain Benefits
Kids who eat breakfast have better concentration during school hours than kids who skip the morning meal. Eating breakfast every day can even improve your mental performance and math scores, according to a study in the August 2013 issue of "Frontiers in Human Neuroscience." According to pediatrician Dr. William Sears, children who eat breakfast also participate more in class discussions, are better able to handle complex problems in class and get better grades. In particular, a breakfast meal containing a balance of protein and complex carbohydrates boosts school performance for the remainder of the day.
Physical Benefits
One major physical benefit of breakfast that can help school performance is the increase in energy that comes from a morning dose of carbs and protein. Energy provided by breakfast carbs allows children to fully participate in physical activity at school, including physical education, or P.E. classes; recess; and extracurricular activities. Kids who eat breakfast are typically in better health overall as well. They are less prone to obesity and illness, leading to fewer sick days, which can cause kids to fall behind in schoolwork.
Components of a Healthy Breakfast
For a breakfast to be healthy, it should include some nutritious components. High-sugar cereals and breakfast bars are more likely to induce a blood sugar crash later in the day than they are to boost performance in class. Instead, opt for whole grains such as oatmeal, whole wheat toast or whole-grain cereals to provide carbohydrates. Eggs, lean meat or tofu can provide protein. Adding vegetables or fruit, including 100 percent fruit juices, can supply vital nutrients. High-calcium foods such as milk or yogurt also boost school performance.
Points to Consider
The effects of breakfast on school performance may depend partly on gender and mood, according to research presented at the 2003 European Nutrition Conference noted by the University of Ulster. While consuming any breakfast at all boosted attention and memory for all children studied, girls performed better when the breakfast included a more filling blend of protein and carbs instead of carbs alone, especially when those girls were in a negative mood. The combination of protein and carbs also improved performance in both genders as the test questions became more complex.
Being Prepared
Going to bed earlier can make breakfast more likely for kids and teens. Preparing breakfast the night before or choosing healthy ready-to-eat options, such as nutritious breakfast bars, is another option that can cut down on time in the morning and make it less likely that kids will head out the door without eating something.