Iron supplements may be prescribed by doctors to treat iron-deficiency anemia. This anemia is associated with a poor production of red blood cells and not enough blood flowing to the organs and muscles. Iron supplements may be prescribed with folic acid supplements during pregnancy. These supplements combined ensure proper development of the growing baby's heart and brain cells. It is important that users be aware of the possible side effects of these supplements.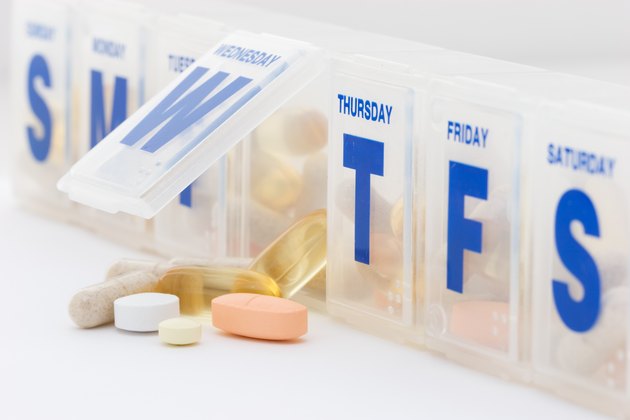 Common Side Effects
Iron and folic acid supplements may cause stomach cramps, constipation, heartburn, nausea and vomiting. Iron may impact the stools by turning them black. According to the Linus Pauling Institute of Health, this black color is due to the unabsorbed iron and is not a harmful effect. Abdominal discomfort and symptoms may decrease over a few days or weeks as the body adjusts to the intake of these supplements.
Severe Side Effects
When taking iron and folic acid tablets, serious side effects may develop, including severe stomach pains and chest pain. Other visible changes include clammy skin, and lips and fingernails that develop a blue color. According to the Linus Pauling Institute, if these symptoms develop, it is important that your doctor be contacted since they may indicate serious concerns. A pharmacist may also be consulted with any concerns.
Side Effects Due to Drug Interactions
Iron and folic acid may interact with other prescription and nonprescription drugs and lead to side effects. According to the National Institutes of Health, specific drugs, including metyldopa, levodopa, penicillamine, chloramphenicol and quinolone antibiotics, may interact with iron and folic acid and disrupt the function these supplements should produce. The Linus Pauling Institute says that iron also may interact with antacids and tetracycline antibiotics and impair their proper functions. Any other medicines taken along with iron and folic acid supplements must be approved by a doctor or pharmacist to ensure that there are no harmful reactions, side effects or impaired functions.
Overdose
An overdose of iron with folic acid supplements may pose serious health risks. The Linus Pauling Institute advises that if an overdose has occurred, a poison control center or emergency room should be contacted immediately. Possible side effects and symptoms of an overdose include paleness, weak and quick heartbeat, nausea, vomiting and green diarrhea. It is important to ensure that dosages of these supplements be taken correctly to avoid potential problems.