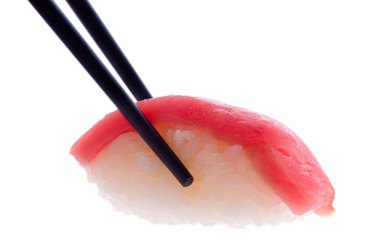 The first Bonefish Restaurant opened in January 2000 in St. Petersburg, Florida. The goal was to offer a dining experience that takes the mystery and uncertainty out of eating fish. Bonefish Restaurant strives to find the freshest ingredients cooked over a wood-fired grill to create healthy options that please everyone.
Healthy Entrées
The Bonefish Restaurant menu has several items low in calories and fat that fit into a healthy eating plan. A 6 oz. piece of red snapper has 218 calories and 3 g fat, while the lobster tail entrée has 200 calories and 2.5 g fat. The gulf grouper entrée has 398 calories and 11 g fat. A Bang Bang shrimp entrée has 484 calories and 8.3 g fat. The nutritional data for these entrée items does not include side items added to the meal.
High-fat Entrees
There are several entrees to avoid at the Bonefish Restaurant due to their high fat and calorie content. A tenderloin portabella piccata entrée has 709 calories and 23 g fat. An entrée portion of Diablo shrimp fettuccine has 527 calories and 19 g fat. Lily's Chicken entrée has 418 calories and 21 g fat. The nutritional data for these entrée items does not include information for side items included with the meal.
Appetizers and Sides
The ahi tuna sashimi is a healthy appetizer choice with 92 calories, 1 g fat and 20 g protein for 3 pieces. Avoid the mussels Josephine appetizer along with the corn and crab chowder. A half portion of the Mussels Josephine appetizer has 697 calories and 42 g fat. The corn and crab chowder side has 709 calories and 48 g fat for a bowl-sized portion. Select healthy side items such as fresh steamed vegetables. Avoid items made with a cream sauce or base, or that are fried in oil.
Considerations
The Bonefish Restaurant does not post or publish nutritional information for its full menu. Ask a staff member for nutrition data on the menu items that interest you. Many restaurants will have a kitchen staff member available to assist you with making healthy choices if a printed copy of the nutritional data is not available.
Warnings
Several of the Bonefish Restaurant entrée items are large portions. This holds true for many of the pasta dishes. Request a take-out container when your food arrives at the table so you can split the portion in half to take home. Eating only half of a dinner entrée allows you to enjoy the meal while saving calories and fat.