If your body mass index is 30 or higher, you may have been slapped with the label "obese." But there's more at work here than a label: Carrying body fat in the "obese" category means that you have a greatly increased risk of certain health issues, including heart disease, stroke, high blood pressure, Type 2 diabetes and some cancers.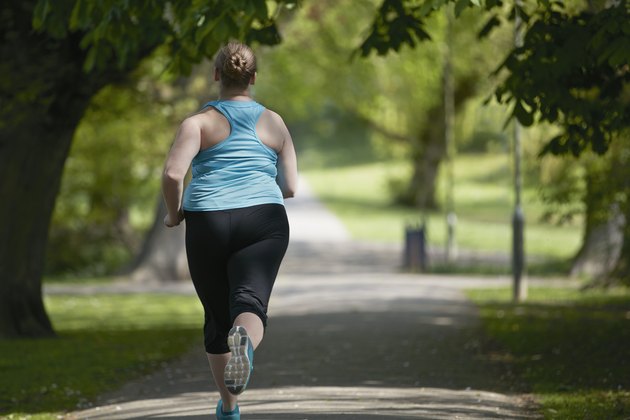 Losing as little as 5 to 10 percent of your body weight can greatly decrease your risk of obesity-related conditions — and every little bit of physical activity you can squeeze into your day will help you toward that goal.
Tips
Ease into new activities gradually and give yourself time to adapt. Some of the most body-friendly exercises for obese beginners include swimming, walking, lifting weights and dancing.
Your Goal for Fitness
So how much should you work out, anyway? Any physical activity is better than none, and every little bit counts. That said, a good goal is working up to the U.S. Department of Health and Human Services recommendations for physical activity. They say that for good health, adults should get 150 minutes of moderate-intensity physical activity per week.
That doesn't mean you have to work out for two and a half hours during your first week of Operation Fitness. Instead, start with what you can do — even if that's one walk around the block or a single lap around the pool — then increase your distance and time a little more every week.
You might be surprised by just how quickly your body adapts when you challenge it in this way. A gradual buildup will also help you avoid the worst symptoms of delayed-onset muscle soreness.
Walking Workouts for Obese Beginners
Walking is one of the most accessible workouts for people of any body weight. As long as you have comfortable clothes and a supportive pair of shoes to walk in, it's completely free. You can measure your walks by either distance or time — your choice.
If you find that you enjoy walking, set a long-range goal: walking or even jogging a 5k race is a very popular choice. The word "race" is a little bit of a misnomer because, while some people will be racing for a personal best time, these events almost always draw large fields of walkers, joggers and runners of every body size, speed and ability level.
You'll have plenty of company and encouragement along the way and maybe even find other people you'd like to walk with on a continuing basis. Involving friends in your walking — or any other exercise — is a great way to really solidify healthy habits.
Swimming Is a Good Workout
Swimming is one of the most body-friendly exercises for overweight people because the buoyancy of the water effectively reduces your weight by about 90 percent. This relieves stress on your joints and muscles and, according to the American Council on Exercise, even reduces your chances of getting sore from your workout. If you're worried about overheating on land, being immersed in cool water can help you be more comfortable as you work out.
If you already know how to swim, start with what you're able to manage and gradually increase the duration or speed of your swims as your body adapts. If you don't know how to swim, you're not alone; many YMCAs, gyms and other public pools offer group and private lessons for adults. You can also try water walking, which is often one of the most comfortable exercises for an overweight person who doesn't want to put up with a lot of jarring or pounding on dry land.
Water walking is exactly what it sounds like: walking laps from one side of the pool to the other. Many pools have a designated lane for water walking or jogging during lap swim.
Strength Training for All Bodies
Hitting the weight room is a great way to build muscular strength and endurance, but there's more to it than that: Strengthening your muscles can make it easier to perform everyday tasks like climbing stairs, carrying groceries into the house or swinging your kids around during play time. It's also empowering, because you might be surprised to discover just how strong you really are. And it provides real medical benefits, from stronger bones to better cognition and relief from chronic conditions, including back pain, diabetes and depression, according to the Mayo Clinic.
Start with two full-body strength-training workouts every week, leaving at least one full day of rest between workouts. If you're using weight machines or free weights, it's worth it to invest in a session or two with a trainer to make sure you're using the right technique; you'll get a lot more out of your effort that way. If that's not an option, you could trade favors with a knowledgeable friend or watch videos from professional trainers on YouTube.
No gym equipment? No problem. Bodyweight strength-training exercises like squats, lunges and pushups are a wonderful workout that you can do anywhere, and you can scale all of these exercises to suit your fitness level. For example, do wall or counter pushups instead of full pushups, and use a chair as the "down" portion of your squats so you can rest when necessary.
Tips
If you enjoy walking or swimming in a pool, you can also strength train in the pool, using foam weights that provide extra resistance against the water. Search out "aquatics" or "water fitness" or even "water aerobics" classes at your local pool for an introduction; it's a heck of a workout and can actually be a lot of fun.
Dance Is for Everybody
Every body is made to dance. If you need proof of that, turn on your favorite happy song next time you're cooking dinner. Doesn't it make you want to move around the room? Dancing at home to your favorite music is actually one of the best ways to build a habit of physical activity, and it's a great way of seeing the amazing things your body can already do.
But, if you have other dance ambitions, don't stop there. While many dance schools focus on children, the number of schools offering classes to beginner adults is growing, and these classes often take a body-friendly approach.
You can take ballet, ballroom dance, hip-hop classes and almost anything you're interested in as an adult. If you don't live in a place with classes for adult beginners, don't let that stop you: you can find great instructional materials online, too.
Joy Matters Too
If you're trying to build physical activity in your life, the very "best" exercise for you is one that you enjoy doing for its own sake, because that's the one you're most likely to keep doing consistently. So, if there's an activity you've been dreaming of that isn't on this list, go for it!
No matter what your current fitness level, you can start building the components of strength, endurance or flexibility you need to carry out that dream activity — and reap all the health-related benefits along the way.
Need inspiration? Other body-friendly exercises you might enjoy as a beginner include canoeing, sea kayaking (these kayaks have a large opening that's more likely to be comfortable), cycling (consider investing in padded bike shorts and a padded seat), Zumba classes, boxing, kickboxing or karate — and anything else you can dream up.