Chills accompanied by cold feet can result from a number of conditions ranging from chronic diseases such as Raynaud's disease or anemia to environmental factors or illnesses. According to the Occupational Safety and Health Administration, many environmental reactions to extreme weather conditions can be mitigated with proper clothing and care. Other illnesses are chronic and may be incurable.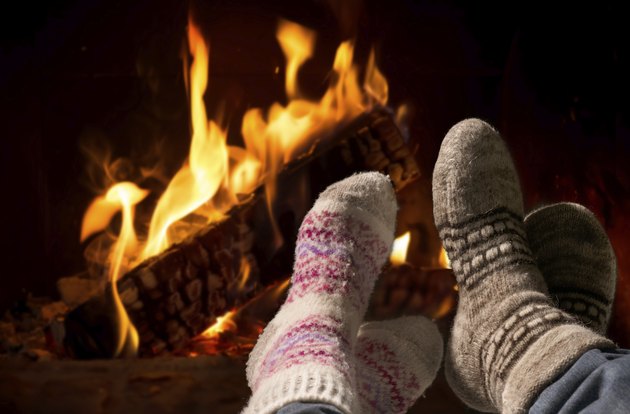 Raynaud's Disease
Symptoms of Raynaud's disease, sometimes referred to as Raynaud's phenomenon, usually are triggered by cold weather. The chills that you first feel when the temperature falls are then followed by a loss of blood flow to the extremities, resulting in cold feet and hands. Raynaud's disease causes small blood vessels to constrict and is a condition that most often strikes women. The disease often is related to other conditions, such as lupus and scleroderma, and often affects people engaged in jobs that require repetitive motions involving large, vibrating hand tools. Skin ulcers and gangrene can set in when the circulation remains cut off for extended periods of time. If you have Raynaud's, the best way to avoid chills and cold feet is to avoid extremely cold environments. Medications such as alpha-blockers and calcium channel-blockers may be used to improve circulation by expanding your blood vessels.
Hypothermia
When your body loses heat faster than it can produce energy to warm it up, hypothermia can set in and cause chills and cold extremities. Hypothermia usually begins slowly and causes confusion and disorientation in addition to chills, notes MedlinePlus. Hypothermia is a direct result of exposure to extremely cold weather conditions, and it may lead to death. If you have cardiovascular disease or hypothyroidism, you are at a higher risk of developing hypothermia. Emergency medical treatment that involves warming the body and administering cardiopulmonary resuscitation may be required.
Sickle Cell Anemia
Sickle cell anemia is a blood disease that is present from birth, although symptoms often don't appear until about four months after birth. According to the National Heart Lung and Blood Institute, insufficient red blood cell production causes the poor circulation that accompanies the anemia. Sickle cell anemia causes pain, chills and cold hands and feet. Fatigue is one of the most common symptoms of the disease. Other symptoms include chest pain, headaches and shortness of breath. Sickle cell anemia is a birth defect that is genetic, inherited from two parents that carry the gene. A bone marrow transplant is the only procedure that can eradicate the disease. Other treatments mitigate the symptoms and may include blood transfusions, pain medication and regular vaccinations against infectious diseases.