Bananas make a healthy snack after exercise when your body needs fuel to recover from training. The amount of protein in a banana is low, but other nutrients, such as potassium, magnesium and zinc, support workout performance. This fruit might even help you shed those pesky pounds.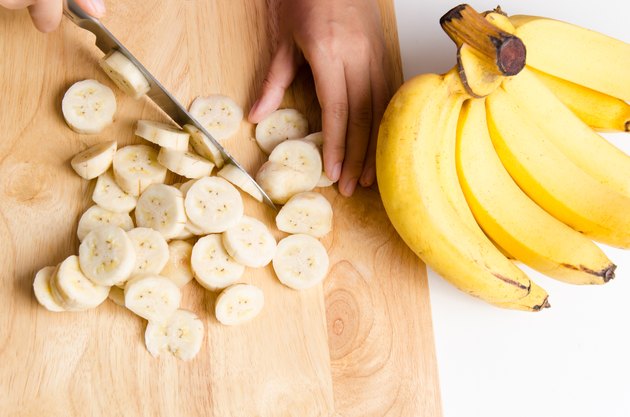 Banana Nutrition Facts
This tropical fruit is best known for its high potassium content. One serving, or one medium banana, provides about 10 percent of the daily recommended intake for this mineral, reports the USDA.
Your body needs potassium to maintain normal cell function and extracellular fluid volume, points out the National Institutes of Health (NIH). Along with calcium, magnesium and other electrolytes, this nutrient enables muscle contractions, supports new tissue growth and regulates heartbeat.
Banana is also rich in magnesium, copper, manganese, vitamin C and polyphenols. Here's what you'll get in each serving:
112 calories
1.4 grams of protein
0.4 grams of fat
28.8 grams of carbs
3.3 grams of fiber
15.4 grams of sugars
10 percent of the DV (daily value) of potassium
15 percent of the DV of manganese
11 percent of the DV of copper
8 percent of the DV of magnesium
2 percent of the DV of zinc
12 percent of the DV of vitamin C
A November 2018 research paper published in Food Quality and Safety analyzed the bioactive compounds in this fruit. In addition to vitamins and minerals, banana is chock-full of quercetin, carotenoids, p-Coumaric acid, gallic acid, cryptoxanthin, serotonin and other phytochemicals. Some of these nutrients scavenge free radicals and fight inflammation, while others may lower cholesterol levels and keep your heart healthy.
Quercetin, for example, is a flavonoid compound with antioxidant, anti-inflammatory, antimicrobial and immune-modulatory effects. An August 2018 review featured in the EXCLI Journal suggests that it may protect the liver from oxidative damage, suppress tumor growth and reduce weight gain caused by high-fat diets.
What About Banana Calories?
While it's true that banana calories are higher than other fruits, it doesn't mean it promotes obesity or weight gain. It all comes down to how much you eat and what your overall diet looks like.
One medium banana has slightly more than 100 calories, while a large one boasts 121 calories. The fiber in this fruit promotes satiety, keeping you full for hours. On top of that, fiber may help prevent constipation, elevated cholesterol and colorectal cancer, notes the Mayo Clinic.
An October 2016 review published in Nutrients suggests that higher fruit intakes may facilitate weight loss and reduce the risk of obesity. Although most fruits are rich in simple sugars, they can make it easier to maintain a healthy weight. These foods boast large amounts of fiber and phytonutrients that balance the gut flora, improve appetite control and increase fat burning. Bananas are no exception.
As Penn Medicine points out, no single food causes weight loss or weight gain. When consumed as part of a balanced diet, bananas won't stall your progress. Just make sure you enjoy them in moderation.
Are Bananas High in Protein?
Like most fruits, banana is low in protein. This doesn't mean it is less nutritious than meat, fish or eggs, though. Although it's not the best source of protein, it contains other essential nutrients that may not be found in animal foods, beans and nuts.
Roasted chicken breast, for example, delivers a whopping 26.7 grams of protein per serving (3 ounces). However, it contains no fiber, vitamin C, lutein, zeaxanthin and other nutrients found in bananas.
Despite its low protein content, this fruit supports athletic performance and post-workout recovery. First of all, it's rich in electrolytes like potassium and magnesium. Second, it contains antioxidants that may reduce inflammation and exercise-induced oxidative stress. The carbs in banana help replenish muscle glycogen stores, leading to faster recovery from training.
Think about sports drinks. These beverages are high in sugar and electrolytes. Bananas contain sugar too, but they're also a great source of fiber, which slows sugar absorption into the bloodstream and prevents insulin spikes.
Additionally, these fruits are naturally rich in electrolytes. Unlike sports drinks, they have no preservatives, synthetic flavors, artificial sweeteners and other potentially harmful chemicals. To reap the benefits, eat a banana before or after exercise, between meals or anytime you need a quick boost of energy.