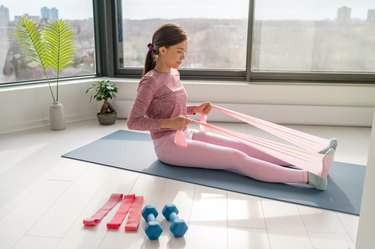 The rowing machine has experienced quite the resurgence over the past several years. Thanks in part to CrossFit, this once overlooked machine is now used by cardio enthusiasts and athletes of all levels for low-impact cardio and high-intensity interval training (HIIT).
But unlike the treadmill or stepmill, re-creating the rowing machine at home takes a bit of creativity. Luckily, you can get a lot of the same benefits with a resistance band. Learn to simulate a rowing machine at home and give this 20-minute HIIT workout a try.
How to Simulate the Rowing Machine at Home
With a rowing machine, you can strengthen your core, legs, back and arms, all while spiking your heart rate for a great cardio workout, according to Stella Volpe, PhD, at Drexel University. But reproducing this machine at home is a a challenge (unless you have your own canoe, paddles and lake).
However, a long-loop resistance band can serve as the next best thing. Rowing with a band will help you target the same upper-body muscles, including your arms, back and core. And you can make the rowing more challenging by simply upping the resistance level of your band.
If you program your at-home rowing workout properly, you can strengthen the lower body, too. In addition, resistance training can help you build even more lower-body muscle than the standard rowing machine, according to a May 2010 study published in the ​Journal of Strength and Conditioning Research​. Combine lower-body resistance exercises with upper-body band rowing and you'll get a total-body workout that challenges similar muscles as a rowing workout.
Lastly, when you put these exercises into a HIIT structure, you re-create the rowing machine's cardio benefits, too. Whether perform your exercises for time or for reps, keep alternating between high-intensity and recovery intervals, as you would on the rower.
Next time going to the gym isn't an option and you're seriously missing the rowing machine, grab a resistance band and get to work.
Try This 20-Minute HIIT Rowing Workout
Before you start building your own rowing workout, give these exercises a try, courtesy of Tatiana Lampa, certified personal trainer. Instead of performing each of these moves for specific reps, go for time!
​Do:​ each exercise for 45 seconds with as much intensity as possible, followed by a 15-second rest. Repeat the exercise 4 times total before moving onto the next one, taking a 30-second rest in between.
Move 1: Banded Seated Row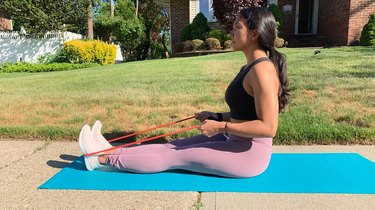 Activity
Resistance Band Workout
Sit on the ground with your back flat, legs straight out in front of you.
Loop one end of your long band around your feet and hold the other end in both hands, arms straight in front of you.
On an exhale, squeeze your shoulder blades together and row the band toward your torso, bending your elbows to a 90-degree angle.
Pause here for a moment, then extend your arms again.
Move 2: Banded Tuck-Up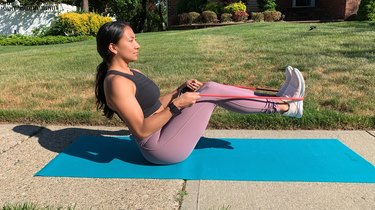 Activity
Resistance Band Workout
Start sitting on the ground and loop the resistance band around the arches of your feet, holding the other end in both hands on either side of your knees.
Lower down into a hollow body hold: Draw your belly button into your spine and lie back with your shoulder blades and head hovering just above the ground, arms extended along your sides. Simultaneously, raise your legs a few inches off the ground. This is the starting position.
On an exhale, bend your knees to your chest and raise your torso to an upright position, rowing your hands back so that your elbows tuck into your sides.
Pause here, then return slowly to a hollow hold.
Tip
As you come into the hollow hold position, keep your lower back against the floor, engaging your abdominal muscles.
Move 3: Banded Deadlifts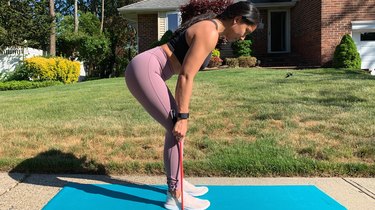 Activity
Resistance Band Workout
Begin standing with feet about hip-width apart.
Loop a long band around the arches of your feet and hold the other end in your hands, standing tall.
Hinge your hips back (stick your butt out behind you without arching your lower back), keeping your spine long.
Bend your knees slightly and lean your torso forward until it's about parallel to the ground.
On an exhale, drive your hips forward and come to standing, keeping your shoulders directly over your hips.
Tip
"As you hinge down, plug your shoulder blades down and back so you're engaging your lats," Lampa says.
Move 4: Banded Upright Rows
Activity
Resistance Band Workout
Stand tall with your feet hip-width apart, shoulders down and back.
Loop a long band around the arches of your feet and hold the other end at your hands just inside shoulder width.
On an exhale, draw the band up to chin height, leading with your elbows high.
Pause here for a moment, then lower your arms back down with control.
Move 5: Banded Squats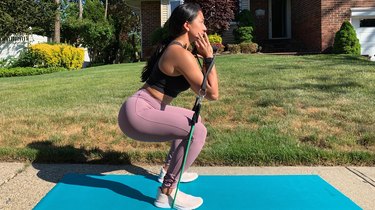 Activity
Resistance Band Workout
Stand tall with your feet shoulder-width apart, one end of the band looped around the arches of your feet.
Hold the other end of the band in your hands up at shoulder height, elbows slightly in front of your body.
Squat down as if you're sitting into a chair until your knees form a 90 degree angle.
On an exhale, press into your heels and drive your hips forward, coming to standing.