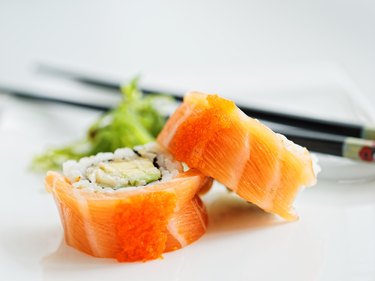 When prepared properly, sushi can offer a variety of nutrients for very few calories. A salmon avocado roll, for example, provides a heap of protein and a dose of healthy fats from both the salmon and the avocado for 304 calories per roll. You need to practice portion control to keep your sushi dinner healthy, however.
Keeping Calories in Control
At 304 calories per roll -- or six pieces -- a salmon avocado roll won't derail your diet. If you add a second roll, however, you double the number of calories you take in, so stick to just one. To round out your meal, add a light miso soup and seaweed salad. To further ensure you're making a healthy choice, pick a roll that has just salmon, avocado, rice and nori. Any spicy sauces made with mayo can add 100 calories to a roll, while tempura -- which is fried -- can also add a significant number of calories.