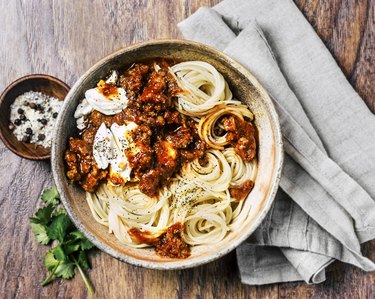 A big bowl of spaghetti with meat sauce, topped with cheese and black pepper, is famous for being a high-calorie comfort food. But spaghetti and meat sauce calories don't have to hold you back from enjoying this dish. Here's how to make this meal healthy and delicious.
Tip
A plate of spaghetti with meat sauce can contain 670 calories, including 20 grams of fat, 90 grams of carbs and 32 grams of protein.
Spaghetti and Meat Sauce Calories
A quick spaghetti and meat sauce dish is often tossed into the microwave from a frozen dinner, or cooked up quickly with white pasta, tomato sauce and ground meat. While it's delicious, the fat and carbs in spaghetti with meat sauce can often overwhelm the healthy aspects of this dish.
One serving of spaghetti with meat sauce can contain 670 calories and nearly 20 grams of fat. These spaghetti calories include almost 6 grams of saturated fats, 50 milligrams of cholesterol and 90 grams of carbs. While it's high in protein (32 grams), iron (5 grams) and potassium (953 milligrams), the high levels of fat and salt (making up over half your daily value for sodium) make it difficult to include this meal in a weight loss plan.
There are, however, a few health benefits to spaghetti and meat sauce calories. For one, fresh red or marinara sauce is made from tomatoes, which contain lycopene. Lycopene has antioxidant properties and has also been linked to potential health benefits, like potentially protecting against certain cancers, according to Berkeley Wellness. Pasta, eaten in moderation and in balance with a greater Mediterranean diet, can be a part of a healthy meal plan. Pasta may be high in carbs, but it's low in fat and also contains a good deal of fiber.
Consuming carbs like pasta before or after a workout is also important in meeting energy needs, maintaining body weight, and muscle recovery and repair, according to the American College of Sports Medicine. In this scenario, the carbs in spaghetti with meat sauce can be to your benefit if you're hoping to gain muscle or restore energy.
Healthy Spaghetti Tricks
Fortunately, there are ways to zone in on the good parts about spaghetti calories and diminish the bad parts. Let's start with the pasta. Instead of white pasta, aim to use whole-wheat pasta, as this has higher levels of fiber. One cup of whole-wheat pasta contains nearly 5 grams of fiber and 7 grams of protein.
Next, make your own red sauce at home rather than pulling it from a jar or can, as these store-bought options may contain higher levels of sodium or sugar. For a simple, fresh red sauce recipe, simply mix together healthy ingredients like fresh tomatoes, tomato paste, basil, garlic, herbs, olive oil and salt.
Cook the garlic in a pan with olive oil, add in chopped tomatoes and salt, bring it to a simmer then toss in basil and herbs. For more detailed instructions, check out this LIVESTRONG recipe for roasted tomato marinara.
To consume spaghetti with meat sauce in the healthiest way, pair it with the leanest and healthiest meat and toss it into your red sauce in moderation. While ground beef or ground turkey are the popular choice for this meal, these meats contain cholesterol and some amount of saturated fats.
Fortunately, both ground beef and ground turkey contain minerals like iron, potassium, magnesium, zinc and vitamin B12, as well as a large amount of protein. Choosing low-fat ground beef or turkey, and adding them into your sauce in moderation, will keep your meat sauce calories low and lean. Finally, balance out your spaghetti calories by adding vegetables into your sauce or as a side dish.