Getting your groove on while you're watching your calorie intake can be tricky. Apart from calorie content, here's what you need to know about your Captain Morgan and Diet Coke drink.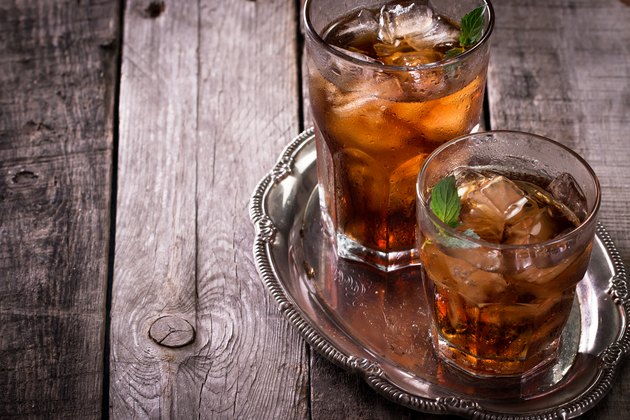 Tip
A drink with 35 milliliters of Captain Morgan's Original Rum (40 percent) and 330 milliliters of Diet Coke has 79 calories.
Diet Coke and Weight Gain
You're probably wondering whether drinking a lot of Diet Coke can help you lose weight, given that it barely has any calories. However, the relationship between diet soda and weight is slightly more complex.
An study published in April 2015 in the Journal of the American Geriatrics Society found that consumption of diet soda was linked to abdominal obesity in older adults. The researchers found that the relationship between diet soda and abdominal obesity was a dose-response relationship, where the more frequently people consumed it, the more weight they gained.
Another study, published in the Journal of Nutrition in August 2016, found similar results. The researchers noted that people who drank more than five servings a week of both artificially sweetened beverages and sugar-sweetened beverages were at a greater risk for metabolic syndrome.
Metabolic syndrome is a cluster of conditions that occur together and can increase your risk of heart disease, stroke and diabetes. High blood pressure, high blood sugar, high cholesterol and abdominal obesity are some of the conditions associated with metabolic syndrome.
Calories in Captain Morgan Rum
Alcohol and Weight Gain
The studies on alcohol and weight gain have been inconclusive so far, according to a review published in January 2015 in the journal Current Obesity Reports.
However, drinking alcohol could potentially cause weight gain in a number of ways. When you drink, your body burns alcohol as fuel and temporarily stops using carbohydrates and fat as a fuel source. The excess glucose from carbohydrates and lipids from fat end up getting stored as adipose tissue, or fat.
Alcohol also promotes greater hunger and lower satiety, causing you to eat more than you normally would. It can cause you to make poor food choices as well, so apart from the calories in your drink, you may end up consuming a whole lot of other unhealthy calories too.