An enlarged heart, or cardiomegaly, is a symptom of another medical condition; it is not a disease in itself. The condition is often treatable if therapy is directed at treating the underlying cause of the heart enlargement. Medications, surgery and, in some cases, exercise can be beneficial, depending on what has caused the heart to enlarge. Physicians at the Mayo Clinic advise that patients with cardiomegaly "get modest exercise, after discussing with your doctor the most appropriate program of physical activity."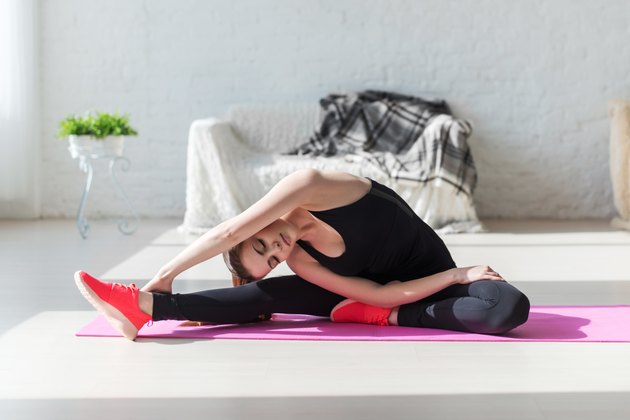 Warning
The Cardiomyopathy Association warns that "exercise advice is different for patients, depending on the type of cardiomyopathy they have." Exercises, under a doctor's supervision, may help if you have dilated cardiomyopathy (DCM) or hypertrophic cardiomyopathy (HCM), but persons whose enlarged hearts are due to a condition called arrhythmogenic right ventricular cardiomyopathy "need very personalized advice and should consult their cardiologist."
Exercising with Hypertrophic Cardiomyopathy
Hypertrophic cardiomyopathy is a condition in which the heart muscle becomes abnormally thick. The degree of thickening and how much of the heart muscle is affected differs from patient to patient. The majority of people with HCM don't show any symptoms. Ten percent, however, will find that blood flow to the heart is obstructed during vigorous exercise, according to Dr. Maite Tome, consultant cardiologist at the Heart Hospital, London.
When to Cut Back on Exercise
Tome urges patients with HCM to seek medical advice if exercise induces chest pain or other exercise-related symptoms such as dizziness, heart palpitations, troubling shortness of breath, extraordinary time to recover from exercise exertion or a worsening of any symptom that was present before the exercise session. "When it is time to choose the activity," Tome advises, "thought needs to be given to the type of sport itself. Sports that demand fast and sudden exercise are not ideal."
Exercising with Dilated Cardiomyopathy
Dilated cardiomyopathy is a condition in which the left ventricle of the heart is dilated and functions poorly. This hinders the ability of the heart to pump and to relax. When the heart cannot provide sufficient blood flow to meet the demands of the body, the condition often is referred to as heart failure.
If a patient's symptoms are mild or moderate, then exercise may improve her condition. The Cardiomyopathy Association recommends aerobic exercise--for example, walking, jogging, bicycling or rowing--if undertaken with a physician's approval. It is best to gradually increase your endurance until you can exercise three or four times per week, for twenty to thirty minutes per session.
Reported Benefits
Moderate exercise was found to work as well as medication in decreasing the mass of the heart and the thickness of the heart wall in elderly men and women who began the study with mild to moderate high blood pressure, according to a study in the August 2004 issue of the "American Journal of Physiology."
According to research published online on June 1, 2007, in the "Journal of the American College of Cardiology," aerobic exercise appears to help patients with stable heart failure decrease the size of their enlarged hearts and improve their heart function.
Additional Steps You Can Take
According to cardiologists at the Mayo Clinic, "While you can't cure your enlarged heart with home remedies, there are some things you can do to improve your condition." They suggest you discuss with your doctor lifestyle changes such as giving up smoking, decreasing or eliminating alcohol, reducing salt intake, controlling diabetes, learning to monitor your blood pressure yourself and sleeping eight hours each night.