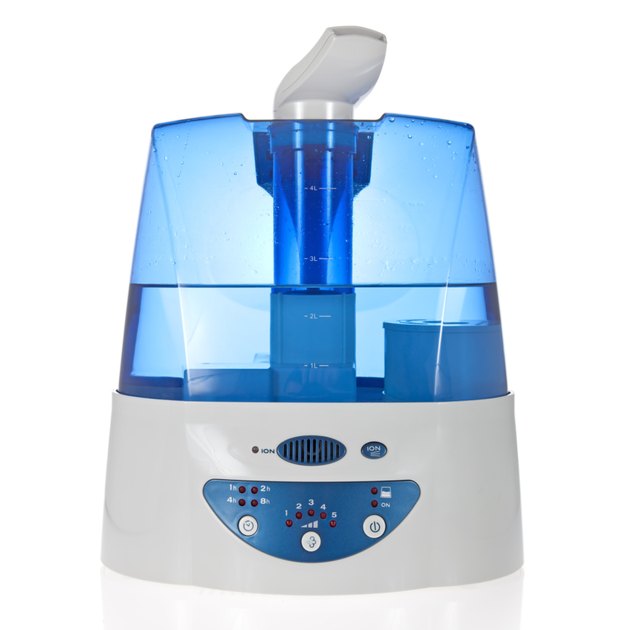 Benefits
A cool mist humidifier increases the humidity in a room. A humidifier is a useful device to help relieve congestion from allergies, colds and other respiratory ailments. It can also help to alleviate itchy eyes, dry skin and cracked lips caused by low humidity, especially in the dry, winter months. There are two types of cool mist humidifiers; those that evaporate water and those the impel the water to vaporize it.
Cool Mist Evaporative Humidifiers
Cool mist evaporative humidifiers use a filter that acts as a wick, absorbing water from a reservoir. An electric fan then blows air across the filter. This evaporates the water and blows the moistened air into the room.
Because the process evaporates water, it leaves impurities from the water, such as chlorine and iron, behind, trapped in the filter. The filter should be cleaned occasionally to prevent bacterial and mold build-up and the filter should be replaced regularly.
Cool Mist Impeller Humidifier
Cool mist impeller humidifiers use an electric motor that drives a small, rapidly spinning disc. The disc sprays water at high speed onto a diffuser. The diffuser then breaks the water into microscopic droplets that can then be disbursed into the air.
Impeller humidifiers are quiet and don't require filters. Distilled water should be used in these humidifiers to prevent water impurities from being deposited on surfaces around the humidifier. These deposits are caused by minerals in water and resemble a fine powder or dust. Distilled water is free of these chemicals and will not leave a residue.
Is This an Emergency?
If you are experiencing serious medical symptoms, seek emergency treatment immediately.