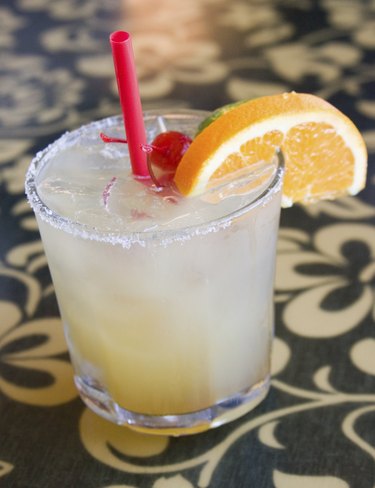 The Cadillac margarita is a version of the classic margarita cocktail. It's known as the "Cadillac" of margaritas because it contains only high quality ingredients and sometimes a little extra triple sec. The drink is high in calories overall.
Ingredients and Calories
According to the Drinks Mixer website, a Cadillac margarita contains 1 1/2 fluid oz. of tequila, 1 oz. of Grand Marnier liqueur and a 1/4 oz. of lime juice. Ninety-seven of those calories from tequila. Lime juice contains 2 calories per quarter ounce, while Grand Marnier equals 100 calories per ounce. The total calories in a simple Cadillac margarita are 199.
Other Recipes
Some recipes suggest adding 1/2 oz. of triple sec to the drink alongside 1/2 oz. of Grand Marnier. Triple sec contains 75 calories per 1/2 oz.. A Cadillac margarita with both triple sec and Grand Marnier equals 224 calories.
Considerations
The salt commonly added to the rim of margarita glasses contains zero calories. Triple sec and Grand Marnier contain more calories than tequila because they are liqueurs, deriving added calories from sugar.