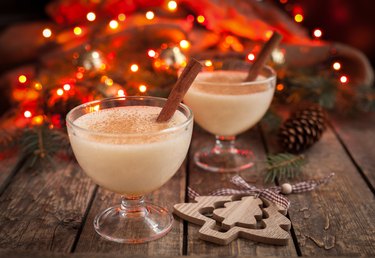 Pennsylvania Dutch brand's Egg Nog is enjoyed at countless activities and celebrations during the holiday season. It is a very rich mix of real dairy cream, rum, brandy and blended whiskey with a 14.75-percent kick of alcohol.
Nutrition Facts
A 1/2-cup serving of Pennsylvania Dutch Egg Nog contains 220 calories, including approximately 140 from fat. This serving packs some 20 grams of carbohydrates, or around 7 percent of the recommended daily intake for someone on a 2,000-calorie-per-day diet, according to LIVESTRONG.COM's MyPlate.
Global Appeal
Eggnog originated in 17th-century England for medicinal purposes — until the citizenry decided it was too good for waiting until somebody got sick, the Party411 website explains. Recast as holiday cheer, eggnog flowed to colonial America and on to Puerto Rico, where added rum turned it into "coquito." In Mexico, added Mexican cinnamon and grain alcohol made it "rompope." Peru's version, the "biblia con pisco," uses a Peruvian pomace brandy called pisco. In Germany, meanwhile, you might find "biersuppe," a hot dessert of egg soup with beer.
Welcome to Washington's
The first president of the United States was quite a fan of eggnog. George Washington is said to have delighted in welcoming Christmas guests with his personal nog laced with rye whiskey, rum and sherry. It was reputed to be a blend quite consistent with that of a strong leader, the InDepthInfo website notes.