High-protein foods are ideal snacks before bedtime because they boost satiety and increase your body's energy expenditure, according to a study published in the December 2009 issue of "The Journal off Nutrition." Furthermore, eating protein-rich foods right before you go to sleep helps repair and build muscle tissues after exercise, according to a study published in August 2012 in "Medicine and Science in Sports and Exercise." The recommended dietary allowance for protein is 46 grams for women and 56 grams for men daily.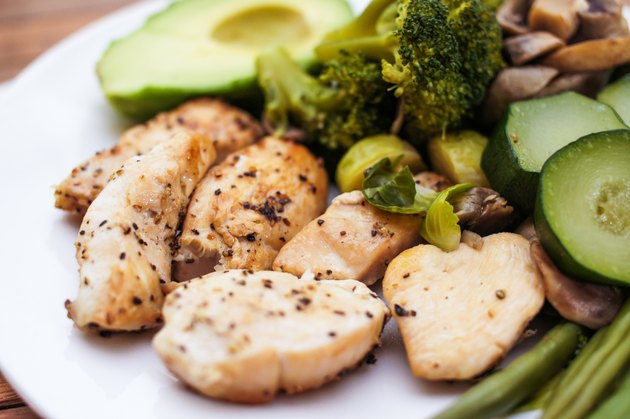 Poultry and Seafood
Skinless, unbreaded poultry and seafood are rich sources of dietary protein. For example, a 3-ounce portion of grilled, skinless chicken breast contains about 26 grams of protein, while 3 ounces of cooked salmon provides 22 grams of dietary protein. Fatty fish, such as salmon and tuna, are excellent sources of essential omega-3 fatty acids, which may be beneficial for people who have obstructive sleep apnea, according to a study published in the December 2013 issue of "Frontiers in Neurology."
Low-Fat Dairy
Dairy foods, such as low-fat milk and yogurt or reduced-fat cheeses, are healthy before-bed snacks because they are rich in both protein and calcium. Dairy foods also have beneficial effects on body composition and healthy weight management. A study published in September 2011 in "The Journal of Nutrition" found that when you're trying to lose weight, boosting dairy food consumption helps reduce body fat and increase muscle mass.
Nuts and Seeds
Seeds and nuts are rich in protein, fiber and heart-healthy fats. Although nuts are high in calories, they are not associated with weight gain, according to a 2010 article published in the "Asia Pacific Journal of Clinical Nutrition," which also points out that nuts boost satiety, may lead to an increase in your body's energy expenditure and can enhance weight loss in individuals trying to shed pounds.
Soy-Based Foods
Soy-based foods make excellent bedtime, high-protein snacks for individuals following vegetarian or vegan meal plans. Unlike most other plant-based proteins, soy contains all of the essential amino acids your body requires daily, making soy a high-quality, complete protein. Foods made from soy include soy-based veggie burgers, tofu, tempeh and edamame. For example, 1/2 cup of firm tofu contains about 10 grams of dietary protein.