Crab Rangoon, a deep-fried dough filled with lump crab meat, is a common appetizer served in Asian restaurants and at dinner parties. While crab meat itself is a nutritious addition to your diet, the fact that the snacks are deep-fried decreases their nutritional value. That doesn't mean you can't eat another crab Rangoon, but you should pay attention to the nutritional information so you can decide when and how often you'll eat the appetizers.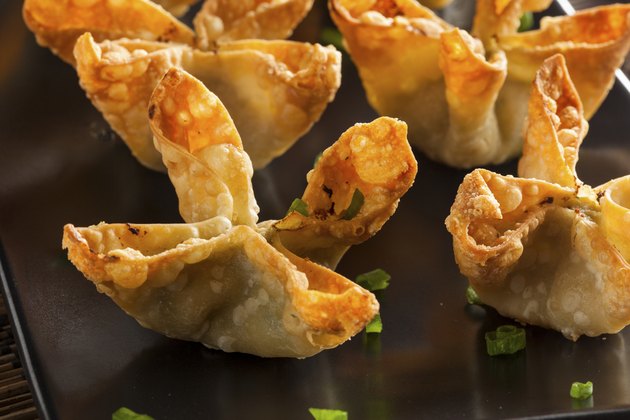 Calories, Fat and Cholesterol
One crab Rangoon contains 67 calories and 4.7 grams of fat, of which 1.4 grams are saturated. The American Heart Association recommends that you limit your saturated fat intake to 7 percent of your daily caloric intake. One crab Rangoon isn't a huge portion of that recommended amount, but if you eat more than one you'll be eating quite a bit of this harmful fat. A crab Rangoon also contains 13.4 milligrams of cholesterol, which is about 4 percent of your daily limit. Having high cholesterol levels can raise your risk of heart disease.
Protein and Other Benefits
Crab is a good source of protein, and you'll get about 2 grams of protein in each piece of crab Rangoon. That's 4 percent of the 46 grams of protein women need each day and 3 percent of the 56 grams men need on a daily basis. The crab meat in a Rangoon supplies small amounts of zinc, a mineral that helps your body heal from injury. Crab is also a healthy source of vitamin B-12, which promotes the normal function of the central nervous system.
Salty Stats
In addition to the saturated fat that deep-frying adds to a crab Rangoon, the sodium content is another drawback. One crab Rangoon contains 127 milligrams of sodium. The American Heart Association recommends that you limit your intake of sodium to 1,500 milligrams or less per day; one crab Rangoon comes in at 8 percent of that limit. Too much sodium puts you at a higher risk for heart attack and stroke.
Including Crab Rangoons in Your Diet
One crab Rangoon here and there isn't something you necessarily need to worry about, but if you can't stop at one, it's reason for concern. Since they're small, if you pop five crab Rangoons in your mouth, you'll eat 335 calories and 23.5 grams of fat, of which 7 grams are saturated. You'll also eat 635 milligrams of sodium. Eat crab fresh rather than wrapped in dough and fried. You'll still eat some sodium, but your saturated fat intake will drop dramatically.