The Mediterranean diet, inspired by the traditional eating habits of people living around the Mediterranean Sea, emphasizes fruits, vegetables and whole grains. It also includes sources of healthful fats, such as nuts and olive oil, seafood, and smaller amounts of dairy, meat and sweets. Mixing and matching Mediterranean diet foods can yield a variety of tasty, healthful breakfasts.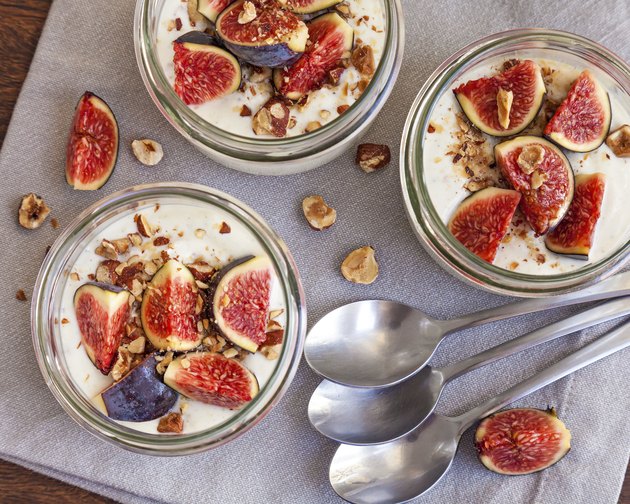 Yogurt and Cheese
Yogurt is a mainstay in many Mediterranean cuisines. Greek yogurt, which has been strained so that it's thicker, is similar to many of the traditional yogurts of that region. To keep the sugar content down, buy plain yogurt and sweeten it yourself with fruit, such as mashed berries or bananas, or a small amount of honey. You can also combine Mediterranean breakfast foods by making a parfait of yogurt, fruit and nuts. A bit of fresh cheese, such as ricotta, can be used in place of yogurt or as a spread for toast or bagels.
Fruits
Apples are a good breakfast choice, plain or with a small amount of cheese or peanut butter. Cherries, nectarines, peaches, apricots and citrus fruits are traditional to the Mediterranean diet, but nearly any fruit can serve as breakfast food on this diet. Traditionally used as a sweetener around the Mediterranean, dates are a healthful alternative to refined sugar. Mash a couple of dates to sweeten plain yogurt, or stuff whole dates or figs with a bit of ricotta cheese.
Vegetables
For a savory breakfast, lightly sauté vegetables such as zucchini, tomatoes, mushrooms or artichokes in a bit of olive oil. For a protein boost, scramble in an egg, toss in a handful of cooked shrimp, or add some cubed tofu. A sprinkling of feta or Parmesan cheese, as well as Mediterranean herbs such as basil, thyme, oregano or rosemary, can pick up the flavor of vegetables without adding a lot of fat.
Whole Grains
Instead of using butter and jam, spread whole-grain toast with mashed avocado, peanut butter, or hummus, plain or drizzled with a little honey. Any whole-grain cereal, hot or cold, can be sweetened with chopped fruit and served with milk or yogurt. Sprinkle in some chopped nuts to add texture and some healthful fat. Bulgur, a quick-cooking version of cracked wheat, can be steeped in boiling water or quickly microwaved, then tossed with fruit and chopped nuts and sweetened with a drizzle of honey.