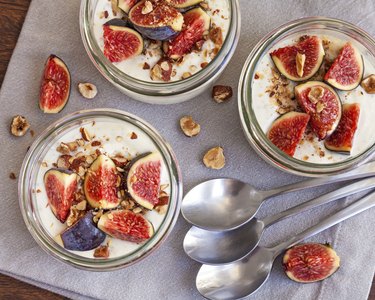 With its emphasis on whole grains, fruits, vegetables, healthy fats and even a little wine, it's no surprise the Mediterranean diet has exploded in popularity recently. More of a lifestyle than eating plan, per se, the Mediterranean diet prioritizes whole, nutritious foods with minimal intake of processed ingredients and sugar.
Not only has the diet been linked to better overall heart health, according to an April 2013 study published in the New England Journal of Medicine, but it may even help reduce inflammation and promote gut health. If you're looking to reap some of these benefits, try these Mediterranean diet-friendly breakfast dishes.
1. Sweet & Savory Apple-Hummus Toast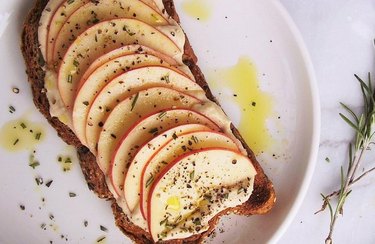 This recipe is not only quick to prepare (less than 15 minutes), but it's also rich in healthy fats, whole-grain carbohydrates and protein. Plus, it's high in fiber, which will help keep you satiated and promote healthy digestion, according to the Academy of Nutrition and Dietetics.
Combining bread and legumes like chickpeas (the main ingredient in hummus) may help reduce inflammation in the body, according to an October 2019 study presented at UEG Week 2019. Researchers associated this food combo with decreased Bacteroides fragilis, E.coli and Clostridium bolteae, three strains of bacteria commonly linked to inflammation and obesity.
2. Mediterranean Tofu Protein Scramble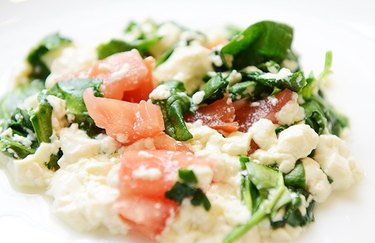 All you need is three ingredients and 10 minutes to prep this sub-100-calorie breakfast dish. This dish is loaded with veggies and protein, so you may want to pair it with some fruit; a few slices of avocado can add healthy fat and calories for a more complete breakfast.
Derived from soybeans, tofu is a great source of plant protein and may help your body process vitamins and amino acids, according to the October 2019 study mentioned above.
3. Coffee Yogurt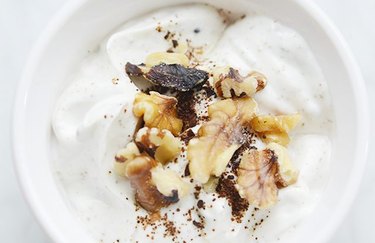 If you're a fan of tiramisu, you'll love this dish, which requires only five minutes and three ingredients. This yogurt dish is high in protein (22 grams) and high in unsaturated, healthy fat — a Mediterranean diet staple. If you're not a fan of coffee, you can always substitute with matcha, cinnamon or cocoa powder.
Low-fat fermented dairy is another food that can help promote gut health, according to the October 2019 study. While the Mediterranean diet only calls for moderate dairy, incorporating some low-fat yogurt into your breakfast may help increase friendly bacteria like Lactococcus lactis and Lactobacilli, known for their anti-inflammatory properties, according to a February 2019 study published in Food & Function.
4. Mediterranean Morning Scramble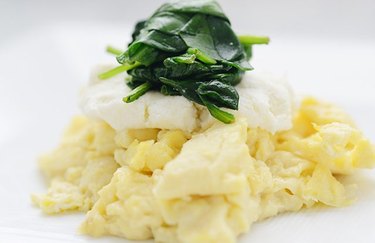 This scramble combines egg and egg whites, making it a low-fat version of a typical scrambled egg dish. Topped with some part-skim ricotta and a bunch of baby spinach, this high-protein recipe will give you just the energy you need to power through your morning.
Eggs are full of protein and healthy fat, and they contain 13 different vitamins and minerals, according to the Egg Nutrition Center. They're also high in choline, a compound commonly grouped with B-complex vitamins, which helps support various bodily functions like muscle movement and cell function.