After a strenuous weight training session or a challenging run or bike ride, you may decide to jump on the scale and find yourself dismayed to see the number go up. You may feel bloated after your workout which seems discordant with the amount of time and effort you put in. You are watching what you eat and doing everything right but muscles do take on additional water after your workouts for a number of reasons. The effect is temporary, though it can last up to several days.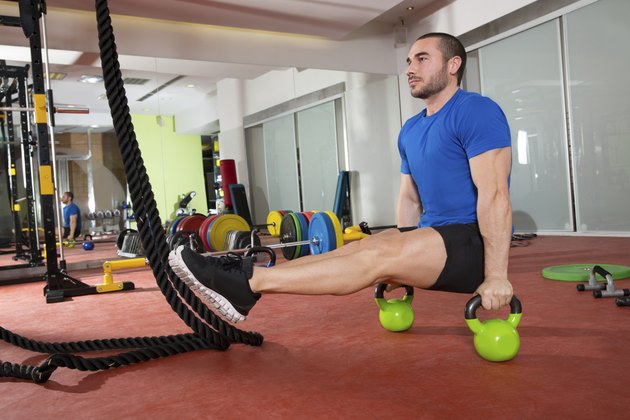 The Scale is Not the Whole Story
Both weight bearing and even endurance exercise may cause tiny micro tears in your muscle fibers. The more strenuous the workout, the more trauma inflicted. Your amazing body begins to repair these tears right away and the end result are stronger muscles. One way your body defends itself against further injury after this micro trauma occurs is to surround the afflicted area with fluid. It is typical for your freshly worked muscles to look temporarily pumped up from the additional fluid surrounding them. The scale may temporarily reflect this extra water weight even though you may be working hard to lose weight. Stepping on the scale immediately after your workout is a poor way to gauge your average weight.
Women and the Weight of Water
Women are more prone to water retention due to hormone fluctuations throughout their monthly cycle, especially after exercise. Fluid retention may become worse and more erratic as you approach menopause. Taking hormones such as birth control could exacerbate water weight gain. It is important to stay on track with exercise and healthy eating. Though you may not always feel like it, sticking to an exercise routine is a great way to banish bloat and minimize the symptoms of PMS.
Flushing Out That Excess Fluid
Flushing your body of excess fluids quickly may be as simple as drinking more water. Though it seems counterproductive, the more you drink, the more you expel. Try limiting your sodium intake as much as possible after your workouts to minimize bloating. Eating a primarily plant based whole food diet is a great way to allow your body to return to homeostasis. According to an article from the American College of Sports Medicine, supplements such as specific amino acids have shown promise in increasing muscular resistance to oxidative stress. This may also be beneficial in helping to keep your body in balance.
The Rub Down on Massage
Many people find massage helpful in aiding muscle recovery and redistributing fluid throughout the body. If fluid retention is an ongoing issue for you post workout, you may find massage therapy to be beneficial. Some people swear by its lasting effects as part of a regular wellness regimen. How often you should go varies from person to person but you could try once a week in the beginning if your finances allow. Some insurances may cover some or all of your massage expense. Some healing centers offer sliding scale fees or charge by the minute, making it more economical.