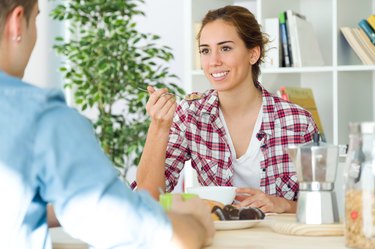 Eating breakfast is important, even when you're trying to lose weight. Whether you eat three meals daily or graze every few hours throughout the day, you'll lose weight by reducing your daily calorie intake, according to a study published in the May 2012 issue of the journal "Obesity." Choosing healthy foods for breakfast helps control your overall calorie intake for effective weight loss.
Weight-Loss Calorie Needs
In general, having 1,000 to 1,200 calories a day will help most women lose weight safely, while consuming 1,200 to 1,600 calories a day will help most men lose weight safely, according to the National Heart, Lung and Blood Institute. However, Harvard Health Publications suggests that women should get at least 1,200 calories daily and men should consume a minimum of 1,500, unless supervised by a doctor. Consult with your physician to determine the number of calories you need to obtain each day for healthy weight loss. The number of calories you should consume for breakfast is one-third of your daily weight-loss calorie needs -- if you're eating three meals daily.
Protein-Rich Foods
When you want to lose weight, try to choose at least one protein-rich food to eat for breakfast each morning. Protein increases satiety more than carbs or fat and helps your body burn extra calories, according to a study published in the December 2009 issue of "The Journal of Nutrition" and in an article published in the May 2008 issue of "The American Journal of Clinical Nutrition." Healthy, protein-rich foods include egg whites, which contain 17 calories each; nonfat plain Greek yogurt, which provides about 100 calories per 6-ounce container; low-fat cottage cheese, which has about 82 calories in each 1/2-cup portion; skim milk, which provides about 83 calories per cup; reduced-fat cheddar cheese, which has about 65 calories per slice; and extra-firm tofu with about 46 calories per slice.
Fiber-Rich Options
Fiber helps boost satiety -- much like protein -- but isn't fully absorbed by your body. Fiber-rich foods include plain oatmeal, which has about 101 calories per packet, whole-grain cereal, which provides about 106 calories per cup, whole-grain toast, which has about 69 calories per slice, sliced strawberries with 53 calories per cup, sliced apples with 57 calories per cup, sliced tomatoes, which have about 32 calories per cup and almonds, which provide about 7 calories per almond. Although almonds are high-calorie foods, nuts are not associated with weight gain and can enhance weight loss, according to an article published in 2010 in the "Asia Pacific Journal of Clinical Nutrition." Avocados, plant-based oils, nut butters and flaxseeds are other examples of healthy, fiber-rich foods that also provide healthy fats.
Healthy Breakfast Combinations
To successfully shed pounds, try combining a high-protein and fiber-rich food at breakfast each day. For example, combine low-fat milk with whole-grain cereal, a few sliced almonds and strawberries. Or, have plain oatmeal with nonfat cottage cheese or plain Greek yogurt and sliced apples. You also might want to try a whole-grain English muffin topped with egg whites or tofu, reduced-calorie cheese and sliced tomatoes. Alternatively, make a protein-rich breakfast smoothie using low-fat milk or soy milk, plain Greek yogurt, strawberries and ice.