From the ages of 15 to 35, males need at least 3,000 calories a day if they're in the active to athletic lifestyle range. This can also be a good temporary meal plan for anyone who needs to gain weight. Even a fairly easy 3,000-calorie diet takes planning to ensure that those calories aren't empty.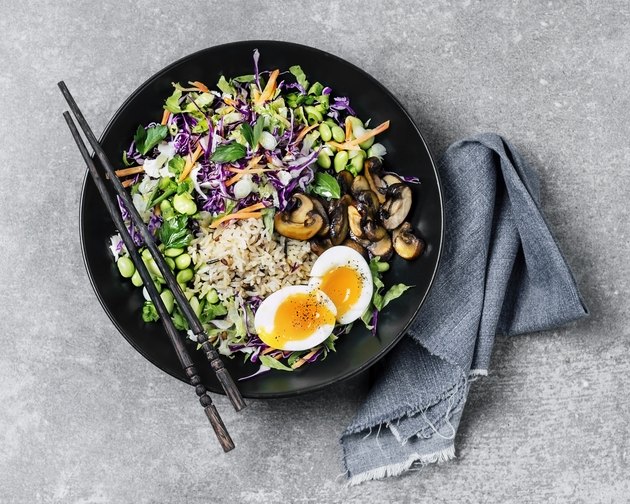 Easy 3,000-Calorie Diet
Active males, along with people of both genders trying to gain weight, need more than just a large amount of calories; they need to distribute it throughout the day. Expect to consuming at least three meals and two snacks over the course of each day on this type of diet.
The American Academy of Family Physicians points out that a 3,000-calorie meal plan for athletes should be based on the same rules of good nutrition as any other healthy diet. Try to structure each meal or snack so that protein makes up about 10 to 15 percent of the total calories and carbohydrates about 55 to 60 percent, with the remainder coming from fats. Also include plenty of fruits and vegetables that are high in vitamin and mineral content.
Breakfast and Morning Snack
You won't come close to meeting your 3,000-calories-a-day goal without devoting time to breakfast, especially if you live an athletic lifestyle. Ironically, however, the more active you are, the more likely you are to be dashing out the door without having eaten. It helps to have easy 3,000-calorie diet options at the ready.
That's where portable breakfasts come in. The American Heart Association's breakfast sandwich made with egg whites, vegetables and whole-grain bread delivers plenty of nutrients and is even compact enough to finish in the car, if needed. Whether you have it on the run or at the table, finish the meal with vegetable juice and a side of fruit, such as 1 cup of diced cantaloupe. The total for breakfast is 465 calories.
Smoothies can provide you with extra calories and also a range of nutrients. That's why they're a fixture in a typical 3,000-calorie meal plan for athletes. Mayo Clinic suggests a blend of yogurt, milk, protein powder and wheat germ, to make a generous 3-cup serving.
Morning snack smoothie (608 calories)
Lunch and Afternoon Snack
When you still have plenty of hours in the day to go, a high-calorie lunch can help keep your energy levels elevated. Cleveland Clinic recommends nutritious, higher-calorie foods like quesadillas and apple slices with caramel.
Make the quesadilla with a whole-grain tortilla and a couple of slices of cheese, to be enjoyed at home or reheated at the office. A glass of milk rounds out the 972-calorie meal.
Quesadilla (650 calories)
2 percent milk (122)
Apple slices with caramel (200)
For a simple afternoon snack that delivers a balance of carbs and protein, Cleveland Clinic suggests mixing a 6-ounce container of flavored yogurt with 1/2 cup of granola. Tasty additions like this help fill in the gaps between meals. Not only do they give you energy and satisfy your appetite, but they also help you make the goal of attaining a 3,000-calorie diet easier for people who dislike eating large amounts in one sitting.
Yogurt and granola snack (300 calories)
Dinner and Optional Dessert
ACE has also developed hearty recipes such as a Mexican-style casserole featuring beans and vegetables, which work well as side dishes in your 3,000-calorie meal plan for athletes. To balance out the richness of the steak and casserole, add a side salad, such as a spicy coleslaw. The total for this dinner is 653 calories.
Steak strips with avocado and salsa (355)
Spicy coleslaw (55)
Southwestern casserole (243)
Sometimes, of course, you may have missed a meal or a snack during the day, or simply still have room in your calorie "budget." In those cases, a sweet but healthy dessert can fill the gaps. Try date-coconut yogurt with pistachios, skillet berry cobbler or cherry-mango crumble. All have around 300 calories or more, but are packed with nutritious ingredients like fruit, nuts and yogurt.