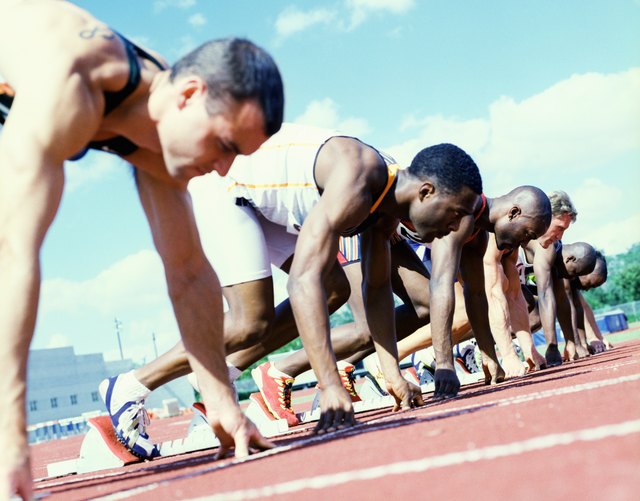 Originally developed in 1920 by Adi Dassler, track spikes have evolved into an essential piece of equipment. Because track meets contain sprints, middle distance and distance events, shoe companies produce a variety of shoes to meet the demands of each race. Middle distance spikes are designed for 400-meter to 1,600-meter races. The best middle distance track spikes combine light, cushioned materials with specific spike configurations.
New Balance LD5000
New Balance has become an industry leader in athletic footwear. Genevieve LaCaze dominates the 3000 meter steeplechase and recommends the LD5000 for the way it molds to her foot and the superior drainage system when she hits the water pit. In addition to the regular spikes, the whole bottom of the shoe is fashioned to grip the track.
Saucony Endorphin LD3
Flash is not usually a requirement for middle-distance runners, but Saucony decided to introduce the Endorphin LD3 to add a bit of style to the track. Weighing in at 3.1 ounces, the Endorphin also boasts a colorful Flexfilm overlay that provides support when you're pounding toward the 10K finish line. This show is built for competition and endurance.
Nike Zoom Victory 2
The Nike Zoom Victory 2 was rated the the top-ranked by "Sneaker Report" in 2013. The popularity is a result of the "Flywire" technology which was created to hold your foot in place and it's light -- weighing in at only 3.5 ounces. The Zoom Victory 2 will keep you "calm and comfortable" in events anywhere from 800 to 5,000 meters.
Adidas AdiZero Cadence 2
Adidas AdiZero Cadence 2s were the show of choice during the 2012 London Olympics. Crafted for cross-country or track running this shoe provides a "glove-like" fit according to Sneaker Report. The "Coolever" lining ensures that your feet don't get too hot and sweaty and should keep you comfortable for the 1,500 to 10,000 meters for which this shoe is rated.