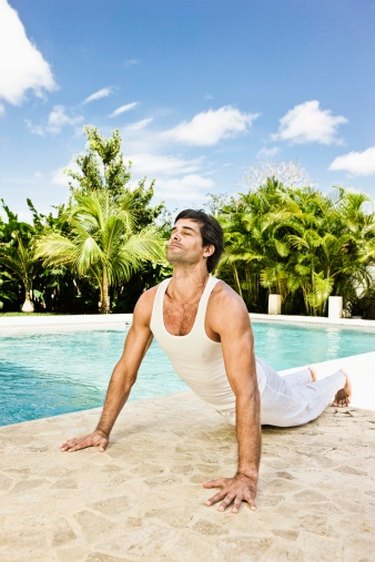 According to John Capouya, author of "Real Men Do Yoga," most men think of yoga as a girly exercise best done by their wives and girlfriends; however, the strength and flexibility gained by its practice makes it widely used by even the most buff and athletic of men. While it is beneficial to practice yoga under the guidance of a seasoned yoga instructor, doing a yoga video at home provides men with the ability to take yoga without the cost or necessity of going to a yoga studio. Regardless of which workout you decide to use, make certain you are cleared by your doctor before starting a yoga program.
Rodney Yee
Rodney Yee, a well-known male yoga instructor, has been practicing yoga since 1980 and has created more than 30 yoga videos during his career, many of which are considered the best of the best. Beginners can try out his "Yoga for Beginners" video, a 40-minute yoga program in which all of the beginning yoga poses along with detailed explanations are shown. For those who are more intermediate to advanced yogis, Yee's "Yoga Practice for Strength" incorporates more challenging poses.
Baron Baptiste
Baron Baptiste, with more than 20 years of experience teaching yoga to a diverse group from poverty-stricken youth to professional football players, has also put out yoga videos that make "Yoga Journal's" top-of-the-pick lists on a regular basis. Not for the faint of heart, Baptiste gears many of his yoga videos to strong athletes, and those that are already fit. His "Unlocking Athletic Power-Power Vinyas" earns five stars on many yoga video websites.
Bob Harper
Bob Harper, yoga instructor and "Biggest Loser" trainer, has developed an advanced yoga video titled "Yoga for the Warrior." Designed for the more advanced exerciser, this yoga is fast paced and energetic. Because of its higher-intensity, power yoga moves, only those that have been exercising or practicing yoga beyond a beginner level should attempt it.
Considerations
There are hundreds of yoga videos available in the marketplace. Finding the right one for you may take some time. Before deciding to purchase the best yoga video for you, rent or borrow different yoga videos from the library or a friend to try them out before you spend money. Regardless of which yoga video you decide to use, make certain that it includes plenty of poses to warm up at the beginning of the video and poses to cool down at the end. It is also a good idea to practice with another person close by in case you are injured while attempting a pose so that they can help you or call 911 in an emergent situation.