Iron deficiency anemia is a common type of anemia that occurs when the body lacks enough red blood cells due to low levels of circulating iron. Iron is an essential mineral that forms hemoglobin, the oxygen-carrying protein found in red blood cells. Omeprazole is a proton pump inhibitor that suppresses production of stomach acid. Patients who take omeprazole to treat chronic stomach conditions are at risk for iron deficiency anemia.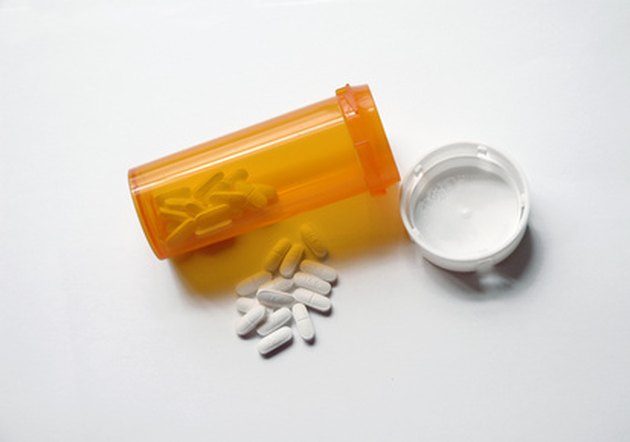 Omeprazole and Iron Deficiency Anemia
Omeprazole, the ingredient in the drug known as Prilosec is an acid-reducer that is used to treat acid reflux and stomach ulcers. Omeprazole works by preventing acid pumping cells found on the stomach wall from producing acid. Lack of enough stomach acid caused by chronic use of omeprazole can affect the absorption of nutrients such as iron from foods. Patients taking omeprazole for chronic stomach disorders may require iron injections to prevent iron deficiency anemia. Patients should avoid consuming iron-rich foods at the same time with omeprazole and other acid suppressind drugs.
Symptoms of Iron Deficiency Anemia
Patients with iron deficiency anemia caused by the use of omeprazole experience symptoms such as extreme fatigue, pale skin and gums, weakness, headache, irritability, shortness of breath, chest pain, dizziness, cold hands and feet, sore smooth tongue, increased infections, fast heart rate, irregular heart beat, brittle spoon shaped nails, craving for non-food items, cognitive problems and delayed growth in children and premature births in pregnant women, according to the Mayo Clinic.
Omeprazole Admnistration
Omeprazole is available as delayed-release capsules and delayed-release granules to be mixed with liquid. The capsules and granules should be taken one hour before meals. Omeprazole is usually taken once a day in the morning before breakfast but may taken more than once together with antibiotics to treat ulcers caused by the Helicobacter pylori bacterium. The delayed-release capsules and tablets should be swallowed whole without chewing. Patients with swallowing problems should pour the content of omeprazole capsules in apple sauce and swallow immediately without chewing.
Omeprazole Side Effects
Patients taking omeprazole may experience common side effects such as stomach pain, diarrhea, constipation, gas, nausea, headache, vomiting and fever, according to PubMed. Patients who experience symptoms such as hives, itching, problems breathing, swelling of the face and tongue should seek immediate medical attention. Long-term use of omeprazole may also cause fractures of the wrist, hip and spine.