Eating healthy can fit anyone's budget, even the poor man. Sixty-two percent of shoppers think healthy foods are too expensive, according to ChooseMyPlate.gov, but replacing your unhealthy snack foods such as chips or crackers with a healthy serving of fruits or vegetables can save you 2 cents per serving. That may not sound like much, but coupled with other cost-saving tips for healthy eating, those 2 cents can add up.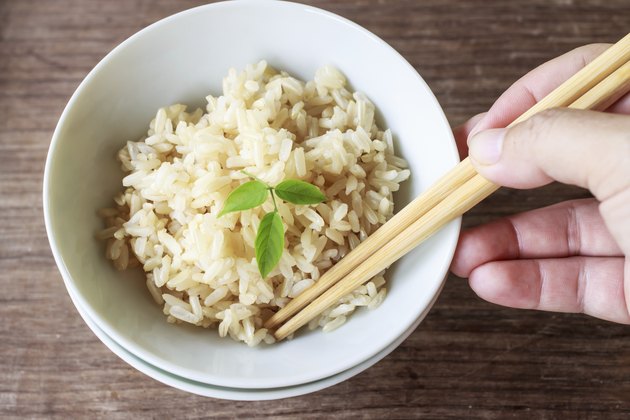 Canned, Fresh or Frozen
A healthy diet should include 2 1/2 cups of vegetables and 2 cups of fruit a day. Eating only fresh fruits and veggies may break the bank, so mix in some canned and frozen fruits and veggies to help you save. Canned and frozen fruits and vegetables are picked and immediately packaged, which helps them retain their nutritional value. Look for veggies without added sauces or sodium, and fruits without sugar. When buying fresh, buy what's in season to keep costs down. You can also check out local farmer's markets for cheap, fresh produce.
Fill Up on Whole Grains
Swap out your refined grains for whole grains, and you may eat less. Fiber in whole grains is satiating, keeping you feeling full longer after you eat. Whole grains help your budget and your waistline. For good health, MyPlate recommends at least half your servings of grains be whole grain. You can also save money on grains by buying store brands or buying in bulk. Store your brown rice, whole-wheat pasta, oatmeal and whole-wheat flour in airtight containers to keep them fresh. You can even freeze cooked grains for up to six months.
Protein, More Than Meat
Meat may blow your budget, but you can meet protein needs without eating meat every day. Beans, eggs and canned fish are all less-expensive, healthy sources of protein. Make a bean burrito or add canned salmon to your salad. You can stretch your meat by mixing it with other foods, such as a veggie stir-fry or potato and carrot stew. Like grains, you can also buy meat in bulk to save money. When you get home from the store, divide your meats into individual portions and freeze what you're not going to eat in the next day or two.
Do-It-Yourself Dairy
Most adults need three servings of dairy food a day. Look for low-fat or nonfat varieties to save calories. You may be able to save money on dairy foods, including milk and cheese, buying larger sizes, but you need to check the unit price to compare costs, says MyPlate.gov. The unit price gives you the price of a food item per ounce or pound. Choose your dairy foods with the lowest unit price to get the most value for your money.
Poor Man's Meal
A healthy meal plan for a poor man's diet should include three meals, each about the same size, plus one snack. For breakfast, whole-wheat toast with hard-cooked eggs, a nonfat yogurt and a banana is healthy and cheap. At lunch, you might enjoy canned tuna on fresh greens topped with chopped carrots and kidney beans and served with store brand whole-grain crackers and canned pears packed in their own juice. A midafternoon snack might include low-fat cheese with a fresh apple. A healthy dinner for your poor man's diet might include chicken stew with potatoes, cooked frozen broccoli and a cup of nonfat milk.