Now that you're older, you need to eat fewer calories to maintain a healthy weight. This also means you may have a harder time getting all the nutrients you need in the food you eat and may benefit from a multivitamin supplement. With so many different options, you may have a hard time figuring out which vitamin is best. But knowing what you need can help. Consult your doctor to help you determine which, if any, vitamin and mineral supplement works best for you.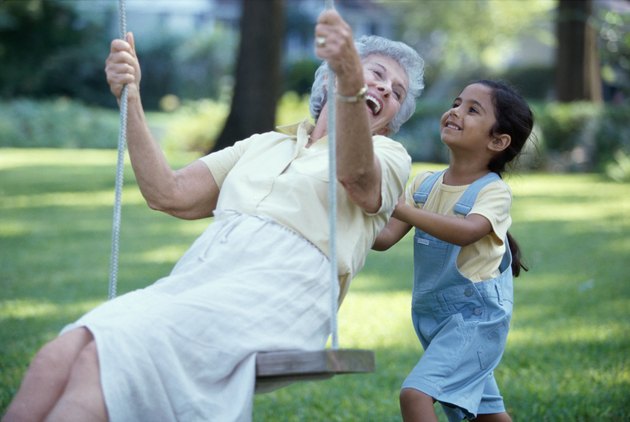 Multivitamin Basics
If you're eating a healthy and balanced diet, there's no need for you to add a multivitamin to your daily routine, according to the National Institute on Aging. However, if you feel you need to supplement, choose a multivitamin that contains 100 percent of the daily value for most vitamins and minerals. Despite what the advertisers tell you, you do not need to take megadoses of any nutrient for better health. In fact, getting too much of any one nutrient may be bad for your health.
Some multivitamins for women over 60 may contain more than just the standard vitamins and minerals, including phytonutrients, herbal blends or probiotics. Talk to your doctor before adding these nutrients to your diet. Some may interact with medication or affect your health negatively, warns the U.S. Food and Drug Administration.
Vitamins of Importance
A good multivitamin supplement for women over 60 should contain vitamin D, B-6, B-12 and folate. Vitamin D is important for bone health, a key health issue for older women. Vitamins B-6, B-12 and folate are all necessary for red blood cell production and prevention of anemia. Vitamin B-12 is of special concern for older women because of the decrease in stomach acidity as you age. Acid in the stomach helps release the vitamin from the protein it is bound to, which is necessary for absorption.
Calcium and Multivitamins
It's also important that you get enough calcium in your diet for bone health. Women over the age of 60 need 1,200 milligrams of calcium a day. However, due to the amount needed, you cannot get 100 percent of the daily value for calcium in a multivitamin supplement. Talk to your doctor to discuss your diet and how best to meet your daily calcium needs.
Special Tips
When it comes to choosing a multivitamin, you may find it easier to take a supplement you only need once a day. To improve absorption, take your vitamin and mineral supplement with a meal. If you're adding a calcium supplement, the Arizona State University suggests taking it separately from your multivitamin.