If you're feeling tired, weak, mentally fuzzy, or feel tingling in your hands and feet, you may have a vitamin B12 deficiency. Adults need 2.4 micrograms of this vitamin a day to keep nerve and blood cells healthy, says the Office of Dietary Supplements. Even if you include plenty of B12 in your diet, your body may have trouble absorbing the nutrient. People who've had gastrointestinal surgery or have digestive disorders such as celiac disease can have problems absorbing B12. If that doesn't apply to you, pernicious anemia or a lack of hydrochloric stomach acid may be the problem.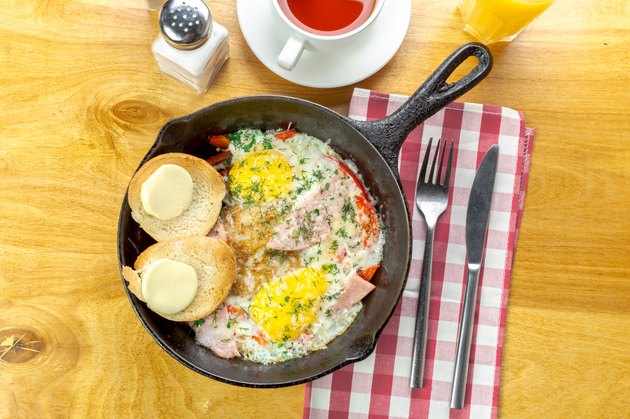 Lack of Hydrochloric Acid
Your body absorbs vitamin B12 by first detaching B12 from protein in foods using hydrochloric acid in the stomach. If you don't have enough of this stomach acid -- a problem more common in adults over age 50 -- your body can't absorb the vitamin. This condition is known as food-bound vitamin B12 malabsorption. This problem only applies to the B12 that comes from natural food sources, which include beef, eggs and dairy.
Pernicious Anemia
The next step to absorbing B12 requires a protein that your stomach makes known as intrinsic factor. If your body doesn't naturally make intrinsic factor, you have a condition known as pernicious anemia, which is much more common in the later stages of life. The average age of diagnosis is 60, and symptoms are rarely seen before age 30, according to Medline Plus. There's a small hereditary component to the condition; when it's passed down in the family, it's known as congenital pernicious anemia.
Signs of a Deficiency
If your body can't absorb vitamin B12, the first sign of a problem might be in the symptoms that manifest. However, a vitamin B12 deficiency is tricky, because the signs can be vague or attributable to other conditions. Common symptoms include fatigue, weakness, balance problems, constipation, weight loss, depression, memory or cognitive problems, numbness or tingling in the hands and feet, and dementia. If you notice any of these signs, talk to your doctor about undergoing a blood test to determine your B12 levels. If the test comes back with values of less than 200 pg/mL, you have a deficiency.
Getting Enough B12
The treatment for a B12 deficiency depends on why your body isn't getting enough. If it's simply a dietary matter – more common among vegetarians and vegans – you can alter your diet or take a supplement. Those who lack hydrochloric acid to separate the vitamin from food need either a B12 supplement or more foods fortified with B12, such as breakfast cereal. If you have pernicious anemia, your body can't absorb any form of B12 taken orally. In this case, your doctor will prescribe a vitamin B12 intramuscular injection.