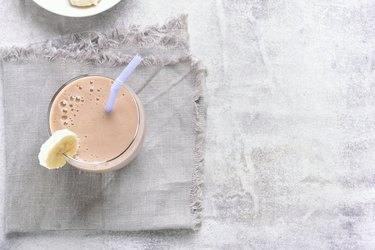 Smoothie King prices and the array of flavors make the smoothie bar an attractive place to eat. While there are several healthy options on the menu, some of the smoothies are more indulgent than others. Fruit smoothies are inherently healthy, but some are not.
The Smoothie King healthy options depend on your definition of healthy. Many smoothies have added ingredients and macronutrient targets that may not align with your goals. However, Smoothie King has dedicated menu items that promote healthy eating. These smoothies have carefully selected ingredients.
Since the menu is extensive with customizable options, there is likely something to suit any lifestyle — the affordable Smoothie King prices are just a bonus. If you are looking for a healthy morning beverage or post-workout snack, Smoothie King has options that are allergen-friendly, low in calories and high in protein.
Tip
With more than 75 blends to choose from, everyone can find a healthy smoothie on Smoothie King's menu. Be cautious of some menu items that are high in calories, sodium and added sugar.
Are Fruit Smoothies Healthy?
Smoothies are often packed with fruits, vegetables, leafy greens, nut butters, protein powders and other ingredients associated with having many health benefits. Depending on their contents, smoothies can be a healthy choice.
Fruit smoothies get a bad reputation for their high sugar content. However, fruit is part of a balanced diet as it is high in natural sugars, vitamins, minerals and antioxidants. Unfortunately, some smoothies add refined sugar, which can make an otherwise healthy smoothie into one you should avoid. If a smoothie is made with primarily whole foods, such as fruits and vegetables, it can be part of a healthy diet.
One concern about fruit smoothies is their low satiety power. In an April 2018 study published in Nutrients, researchers found that energy-containing liquids are less satiating than foods in a small sample size of just 28 participants.
The study compared the satiety levels among participants who drank fruit smoothies and those who ate whole fruit containing the same amount of calories. Though participants reported feelings of enjoyments towards smoothies, whole fruit salad was found to be more filling.
The USDA Dietary Guidelines recommend that adults eat two cups of fruit per day. Stick to whole fruit or fruit smoothies with no added sugars, and you should not feel guilty about the natural sugar content in fruit. Since smoothies may be less filling than whole fruit, you may prefer to consume smoothies as a snack and not as a meal.
Smoothie King Menu
Smoothie King uses various combinations of fruits, veggies and nutritional enhancers in its menu items. However, the ingredients list also contains foods with added sugar, like sweeteners and ice cream. Turbinado Smoothie King menu items are some to avoid since they have added sugar.
The extensive menu is divided into five categories to make it easier to digest:
Fitness blends that are high in protein.
Slim blends that are under 350 calories per 20-ounce serving.
Wellness blends that are rich in vitamins.
Take a Break blends that are purely for enjoyment.
Kids blends that are full of flavor.
If you are looking for Smoothie King healthy options, you may want to focus on the Fitness, Slim and Wellness blends. These smoothies are intentionally formulated with various health goals in mind: workout recovery, weight management and nutrition, respectively. The smoothies in these three categories may still contain added sugar and have high-calorie, fat and carbohydrate content. Check the nutrition facts before making your selection.
The other categories — Take a Break and Kids — are formulated primarily for taste. Some of these blends contain frozen yogurt, fruit juice, added sugar and even ice cream. While they taste delicious, these ingredients tack on extra calories, fat and refined sugar, which may be counterproductive to your goals.
Look at the Nutrition Facts
Smoothie King shares the ingredients list and nutrition facts of every menu item on their website. This is helpful for people who follow a specific diet or have food allergies. Many of the options can be made vegan and dairy-free, while all menu items are gluten-free.
Regardless of your dietary preferences, everyone should quickly check the calorie content in Smoothie King smoothies. Depending on which serving size you choose — 20, 32 or 40 ounces — you may consume as few as 150 calories or as many as 1,680 calories. For some people, the high-calorie smoothies may reach or exceed their entire calorie goal for the day.
When checking the nutrition facts, pay attention to the sodium content as Smoothie King is often high in sodium. For example, the Peanut Power PlusTM Chocolate has up to 1,120 milligrams of sodium. This is almost all of the American Heart Association's ideal limit of 1,500 milligrams per day.
There are also some ingredients you may want to avoid if you are health conscious. For example, turbinado Smoothie King items contain a partially refined sugar. Every smoothie that contains turbinado has an additional 100 calories from carbohydrates and 24 grams of added sugar. A study published in the March-April 2016 issue of Progress in Cardiovascular Diseases warns against a diet high in added sugar, which triples your risk of heart disease.
Your Preferences and Goals
There is an extensive network of dietary guidelines, preferences, restrictions and allergens. The keto diet, low-fat diet, DASH diet and gluten-free diet are just a few. Certain menu items may better suit your lifestyle.
For people who follow a calorie-restricted diet, Smoothie King has several low-calorie options. The Slim-N-Trim Vanilla is 180 calories per 20-ounce serving. It is also low in fat, yet high in protein and fiber.
If you follow a specific macronutrient breakdown, you should take that into consideration when ordering a smoothie. Some smoothies are higher than others in protein, carbs and fat. While many people want their protein to be high, carbs and fat are not as desirable for people seeking weight loss. For example, the Passion Passport smoothie has 102 grams of carbs per 20-ounce serving, and the Daily Warrior has up to 64 grams of fat.
So, Is Smoothie King Healthy?
The Smoothie King healthy options depend on your goals and dietary restrictions. In general, you should avoid the turbinado Smoothie King options as added sugar is associated with several health risks.
Though smoothies seem healthy, the blended nature makes it difficult to view what is really in your drink. Before you visit Smoothie King, check the ingredients' lists and nutrition facts of the menu items that interest you. Make sure there are no ingredients that do not comply with your lifestyle, such as allergens and added sugar.
Smoothie King prices and flavors make the smoothie chain popular. However, it is easy to go over your daily allotment for calories, carbs, fat, sugar and sodium if you do not plan ahead. Knowing exactly what is in your smoothie is the best way to make Smoothie King healthy for you.